Here I go, talking about sex on the blog again. If you told 16-year-old me that when I was—ahem—a bit older, I'd be writing and talking about sex in such a public forum, I'd of thought you lost your mind.
But it's a topic that needs talking about, and healing, and restoration – in case one would need something more than Riley Reid videos as a tutorial. So here I am.
And in full disclosure: I received a free advance review copy in exchange for my honest review, and can give 1 copy away to a reader!
As I came to find out after reading 21 Myths (Even Good) Girls Believe About Sex by Jennifer Strickland, this book isn't as much about sex. It's much more about the heart needs surrounding the topic of sex … finding healing, forgiveness, identity in Christ, and pursing love with purity.
With a different focus than another helpful sex book I recently reviewed, Jennifer outlines her book with 21 myths and truths women may believe about their sexual pasts and what that means for their intimate futures.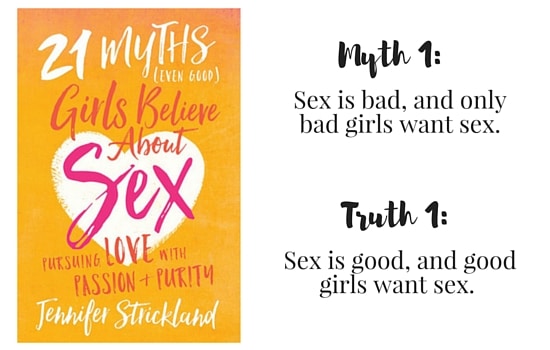 Myth 2: If I've already been sexually active, it's too late for me to be pure.
Truth 2: Forgiveness purifies you.
Myth 8: Abortion is the removal of unwanted tissue.
Truth 8: Abortion may cause trauma to the soul.
Myth 10: Being sexually active won't hurt me.
Truth 10: Anything outside of God's best for you hurts.
Myth 19: Singleness is waiting for marriage.
Truth 19: Both singleness and marriage can be awesome.
As you can gather from these chapter themes, 21 Myths hits on some pretty heavy stuff. Including this great video talking about the soul & marriage (featuring a friend of mine!) and how the devastation that happened before marriage can cause destruction in the dynamics of our marriages today if we don't receiving healing.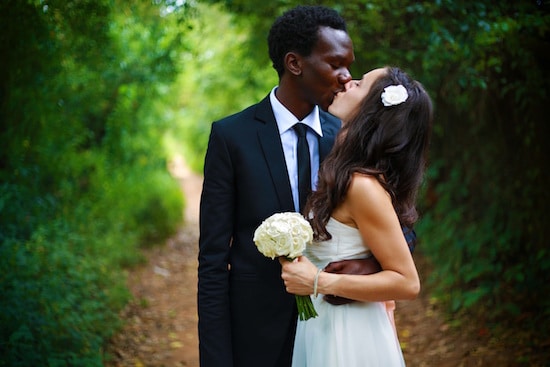 What I Loved:
Jennifer Strickland doesn't hold back, and her greatest strength is in the way that she communicates grace and forgiveness. Our mistakes do not disqualify us from receiving God's love, just like our successes don't qualify us for it. She speaks of redemption and restoration, healing for those who were abused or who had abortions, and of the Lord's desire for us to experience His blessing of sex in the safety, security, and love of marriage.
I also love the way she describes sex in the book introduction.
"Sex is not like a double-sided coin you can flip over, flat on each side. Instead, it is more like a diamond that appears different when illumined by various kinds of light. It's a topic that encompasses babies, health, heartbreak, shame, abuse, homosexuality, media, pornography, body image, prostitution, dating, marriage, God, scripture, truth, and of course love. It's highly multidimensional and very interesting!" – 21 Myths (Even Good) Girls Believe About Sex
Oh, how I sometimes wish sex was  like a coin. Flat and easy to understand. See one side, see the other, there's nothing else to figure out. But the beauty is in the multi-dimensional illumination. And it's not something that get's better in the secret dark places. Only when we come into the light can we begin to see the varied facets of its beauty.
Again Jesus spoke to them, saying, "I am the light of the world. Whoever follows me will not walk in darkness, but will have the light of life. John 8:12 ESV
What I Didn't Love:
The book's audience wasn't very clear to me. I can see how different chapters would speak to the heart needs of women in different phases of life, such as:
Women trapped in regret, who need to know how to be set free from shame.
Married women, who need to know about Love. Forgiveness. Grace.
Single women, who want to better understand sole unity with God and the love Christ has for his bride.
Teen girls and young women, who need to hear the truth on why it's best to wait for marriage. (In my opinion, teen girls are the predominate audience.)
However, when reading through the entire book, it felt a bit disconnected because the struggles of a teen girl considering losing her virginity are different from those of an older woman whose had multiple abortions (and abortion is a big theme in the book). And the many chapters written for a single woman don't really apply to one who is already married. My suggestion would be that readers pick the chapters that apply to them, and skip the others unless they're reading from a leadership/ministry perspective, not for personal application.
The other clarification I'd like to make, is that this is not the book to help married women grow their sex lives, or to clarify what the Bible says is okay in bed (for info on those topics see 25 Questions You're Afraid to Ask About Love, Sex, and Intimacy).
21 Myths (Even Good) Girls Believe About Sex focuses on the consequences of sex, both good and bad. It offers grace and truth in how to realign our lives with God's call to purity.
"At the right time, with the right person, under the blankets of God's good and holy love, you will experience grace in its finest form. There is no fear in love." – 21 Myths (Even Good) Girls Believe About Sex
Sound like a book you'd like to read? Comment below or join the conversation on Facebook. I'll randomly select one participant to win a free copy!
You can also order a copy on Amazon or go to 21myths.com to download a free sample.