As I wrap up my maternity leave and get back into sharing frequent posts on the blog, this final guest post from Victoria Easter Wilson truly touched my heart. Even though our paths to motherhood are near opposites, the sober weight and subsequent joys of motherhood are familiar blessings. I hope you find Victoria's words as encouraging and timely as I do.
—
When my daughter was placed on my chest, I distinctly remember being aware of the weight of her nine-pound frame. I have a fuzzy memory of the midwife commenting, "Woah. That's a big baby," as she lifted my daughter off the delivery bed. What I didn't realize on January 8th is that the weight of motherhood was also heaved onto my heart.
For many, the transition to motherhood is seamless. Women who've hoped for years to be mothers are overjoyed to read a positive pregnancy test or receive word that the adoption has been finalized.
Not so for me.
I wept when I found out that my husband and I were expecting three months after our wedding.
And they weren't happy tears.
They were confused tears. Sad tears. Angry tears. Scared tears.
While I enjoyed being pregnant (if you ignore the morning sickness and aches in muscles you never knew existed), I managed to ignore the thought that I was about to become responsible for a tiny human. When the hospital gave us our discharge papers, I wanted to plead with them to stay just one more night. I was not ready to be a mom, but I had a little girl who needed one. As I learned in labor, the only way through is through.
I wrote feverishly those first months of my baby's life, trying to make sense of my new role as mama. The growing pains were acute. God has been so incredibly gracious with me. Slowly, painfully, beautifully the Lord has been shaping me into a mom that He desires–one that is, as the song says "sweetly broken, wholly surrendered."
During those dark nights of the soul, I begged that God would "show me the joy" in mothering. "Show me the joy, please," I asked.
And he did. He showed me himself, our ultimate joy.
Nine months into this gig, as much time on one side of motherhood as the other, I've begun to look more at Christ than myself, and I see the difference in my parenting. Becoming a godly mom means becoming a mom that looks at God more than we look at our frustrated spirits, harsh tones, or self-doubt. In preaching the Gospel to my baby girl, I've preached the Gospel to myself. Beholding the Lord of all creation, who made the heavens and Earth and made a way to reconcile us to himself is cause for jubilation! "Who is this King of glory? The LORD, strong and mighty, the LORD, mighty in battle!" (Psalm 24:8)
And God is so good to his children. Not only do I realize what it means to see the joy by seeing the Lord, I've seen joy in the little moments of mommyhood. A hand cupped around my daughter's foot. Her laugh echoing through our home. The way her eyes light up when she sees her dad and me. Watching her crawl across the room. Cuddling her frame as I rock her to sleep. Looking in the mirror and seeing a woman who is a glad mother.
Jen, thank you for the opportunity to guest post. May your mothering be saturated with the Gospel, seasoned with grace, made alive by Jesus. And as I pray over my daughter's head every night, "The Lord bless you and keep you; the Lord make his face to shine upon you and be gracious to you; the Lord lift up his countenance upon you and give you peace." (Numbers 6:24-26)
About Victoria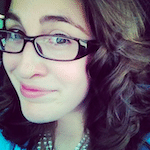 Victoria is a wife, mom, writer, and restless until she finds her rest in Christ.
She shares observations, funny moments, creative writings, and the odd baby picture on her blog. Victoria recently released a YA novel called Re'and that is available on Amazon.com.