I can't believe Christmas is next week. And that's a literal can't, as in can't think about it.
At this moment the only Christmas present we've purchased is mine. That was a Groupon thing, not a selfish thing. 😉 But the tree is up and Christmasing is happening tonight. Promise.
These past few months have been a whirlwind. Between sicknesses, house guests, hosting Thanksgiving, trips to both sides of the country, writing opportunities, huge projects at work, and family time, it's been a struggle to keep up. The blog has fallen silent for a few weeks and for that, I am sorry. It blesses me so much to interact with you friends online, and I have great plans for this coming year, so thank you for sticking around!
Even with all the busyness, lots of good things are happening! More than ever before, I'm learning to maintain focus on what matters. Sure, there have been crying-on-the-couch-while-consuming-chocolate-and-cold-medicine moments. But I think I'm learning a secret.
The storms of life only get ya when you get off-centered.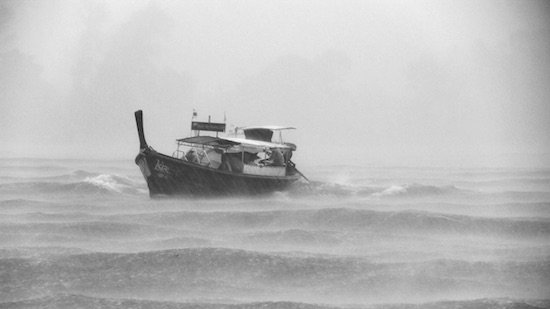 Focusing on harsh circumstances sucks me into them. I want to stay in the eye of the storm, finding peace in the center of the chaos because I'm focused on Christ.  (I'm sure this isn't scientific.) I think of Peter, sitting in a boat "beaten by the waves, for the wind was against them." (Matthew 14:24) The storm was raging long before Peter climbed out to walk to Jesus. It was when his focus shifted that he got into trouble.
Jesus: Take heart; it is I. Do not be afraid.

Peter: Lord, if it is you, command me to come to you on the water.

Jesus: Come.

So Peter got out of the boat and walked on the water and came to Jess. But when he saw the wind, he was afraid, and beginning to sink he cried out,

Peter: Lord, save me.
It's not the existence of the storm that messes us up. The sinking comes from receiving fear from the wind instead of faith from the One who walks on water.
I'm learning to focus on what matters. On the One who matters most, and on the steps of faith He calls me into—despite the wind, waves, flu season, and silly mistakes.
Like going to the wrong airport to catch my flight earlier this week.
Thankfully, I caught my mistake before I arrived. The grace of God brought me to the right airport—20 minutes further out—with enough time to catch my flight, even after getting in the wrong security line. (Somehow the 10 people who walked in before me were all priority travelers.) A sweet older TSA worker noticed me running around the airport, trying not to lose my shoes. He greeted me on the way in, then again as I found the correct line. I joked with him as I jogged past, "first the wrong airport, then the wrong line," to which he called out, "oh honey, bless your heart."
I choose to receive that as an actual blessing on my heart. Without the southern inflection.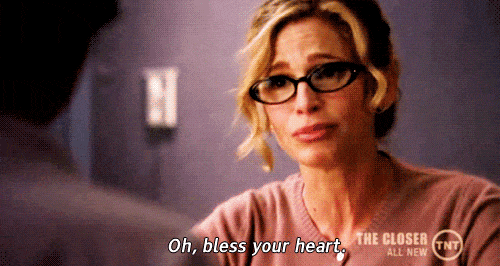 GIF Source
As this is likely my last post until the new year, I want to leave you with the same blessing. Not a passive aggressive "good thing you're pretty" but a genuine blessing for your heart.
I know things can get crazy this time of year, or any time of year for that matter. If you find yourself in a storm, don't get distracted by the crazy around you, or by trying to fight your way out. Get into the middle of it and center on Christ. There's peace where Jesus is.
I pray that God will encourage and edify your heart. That He'll grow good things in your life from the seeds He plants in your spirit. My He bless and keep you. Make His face to shine with joy upon you. Be gracious to you, show you His favor and give you His peace. (Numbers 6:24-26) May God bless the passions and desires He puts in your heart, pouring His abundance upon you and your family. May He draw you to Himself. May He multiply your rest and your joy.
And may He give you a very Merry Christmas. 🙂