[Note: I received two copies of this book free of charge in exchange for an honest review.]

Well, you know what they say.

But do you really? In his newest book, Fifty Shades of They, New York Times best-selling author and pastor, Ed Young, encourages readers to consider how we are influenced by our relationships. Who are the people we allow to impact our lives, share our time, and help develop our character? I'll admit, sometimes I'm not careful enough when choosing the they I let speak into my life. From strangers on social media to discouraging words from well-meaning friends and even my own friendship faux pas, several points in this book caused me to sit up and take notice.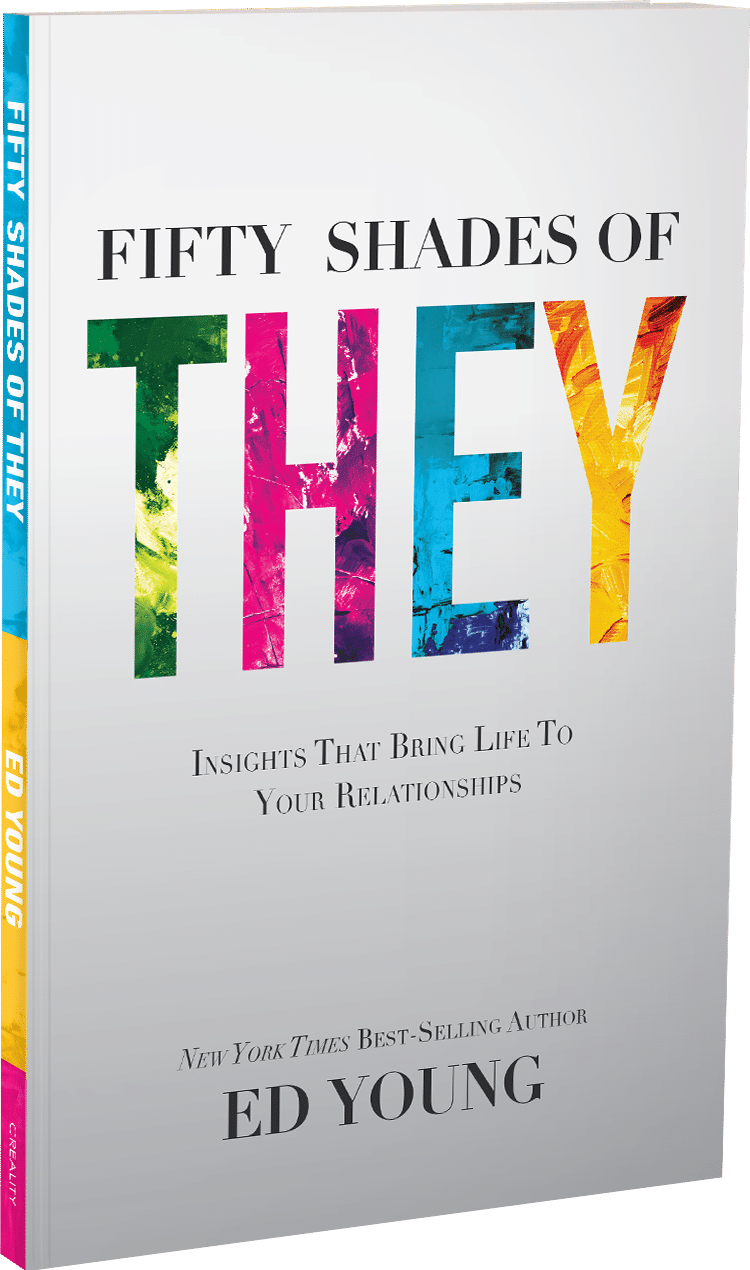 Simple truth and short, "sushi-sized" chapters make Fifty Shades of They a fun read, and I love Ed's lighthearted tone. Don't get me wrong though, his words hold weight.
"God cares more about our next step than our misstep."
"How can you make sure you aren't living based on your feelings? You've got to HALT! Never make decisions that matter when you are too Hungry, Angry, Lonely, or Tired." (emphasis added)
"True hospitality is not about the lawn-mowing, house-showing mentality designed to impress the guests. It is expressed in the conversation-starting, love-imparting mentality designed to serve others. Entertainment says, 'How does the house look?' Hospitality says, 'How are you doing?'"
"Many of us are constantly disappointed because 'they' are not meeting our expectations; yet, we fail to realize that we are putting God-type pressure on human relationships."
From stories about cosmic carbs from the sky (manna from heaven) to dealing with anger Frappuccino style (icing everyone out), Ed shares poignant and timely insights that may leave you just a bit hungry. 🙂 I especially love Shade 34 as we look at the role authority is to play in our lives.
"The right 'they' understand the powerful truth that when we get under those things God has placed over us, we can get over those things God has placed under us. They know and understand their link in the chain of God's command."
Calling us to be "umbrella fellas" or "parasol princesses" (yep, his words not mine), Ed encourages us to step back and evaluate our response to authority figures in our lives. I absolutely love this! Such a great reminder of God's desire to use authority to strengthen and encourage us. Yet even with good leaders to follow, their provision and covering can't help us if we choose to stand out in the rain.
If you've spent much time around me or my website, you know that authority is my jam! I fully believe that God delegates His authority to achieve big things in our lives, and I'm so glad Ed chose to include this perspective in his book.
Each chapter includes thought-provoking questions as I consider the they in my own relationships, if I prove to be a good they to others in my life, and how I relate the most important they—Jesus—in my relationship with Him.
Sound interesting? Check out the following links or participate in my giveaway for your chance to win a copy.