I've carried a copy of this book around with me all week. Unopened. May have been proof of my need to read it. 🙂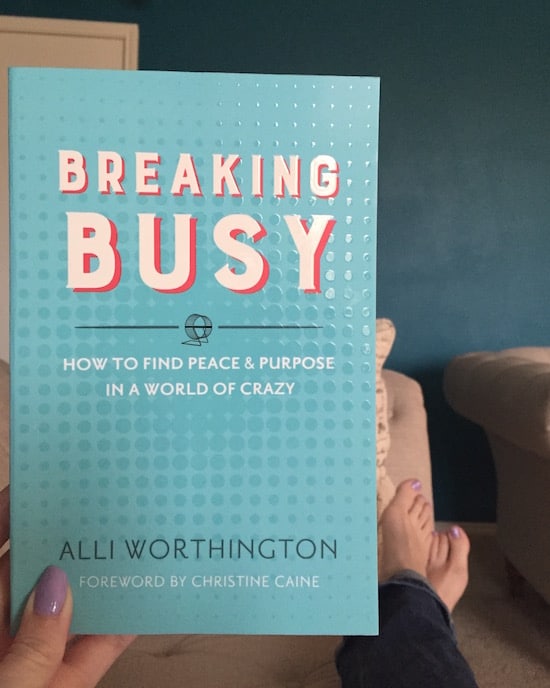 I have been compensated by Zondervan for my honest review of Breaking Busy.
Thankfully, this isn't a book about quitting—it's about prioritizing.
If you've been around the blog for long, or we've spent 5 minutes together in real life, you know I'm a super driven person. I like to have 500 things going at once. It fuels me.
Sure, I get stressed or overwhelmed from time to time like everyone else, but God made me to thrive in a busy environment—provided I stay connected with Him as my strength, direction, and rest.
Because I know these things about myself, I've gotten discouraged when reading books like this before. Feeling like I need to stop doing because many is automatically too much. That wasn't the case with Breaking Busy. From the get go, we're encouraged to understand our capacity and choose how we spend our time with purpose. Exhorted and empowered to walk in the callings God places on our lives, being mindful not to confuse busy with full.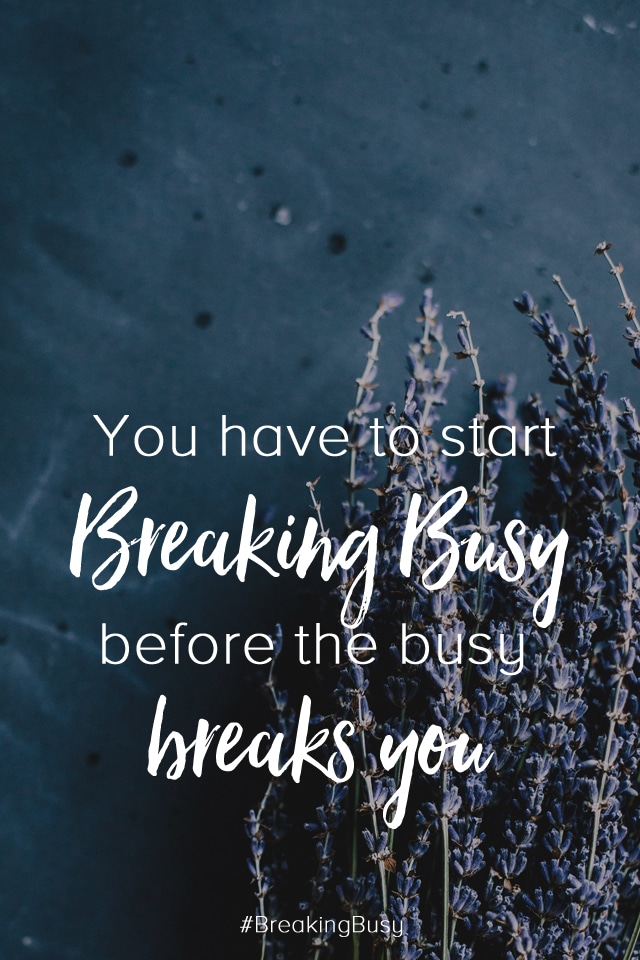 I can relate to the author, Allie Worthington, in so many ways:
When I travel, my suitcase also weighs 147 pounds.
My singing voice sounds like a rabid cat fight.
I too, have a history of wearing busy like a badge of honor.
Breaking Busy shares practical tips to find peace and purpose in a world of crazy. Fitting right, since it's the subtitle. 😉 But the book delivers on the promise as Alli talks through life aspects of connecting with God, self-care, relationships, thoughts, traditions, communication, and making decisions. She shares tons of personal stories in a fun conversational tone.
Here are a few of my favorite moments in Breaking Busy:
"There's a rule in time management that says, 'The time it takes to complete any activity will expand to fill the time allotted on the calendar.' Many meetings that could be done in ten minutes expanded to sixty because that's the time I had allotted on the calendar. After a month of being more aware of this, my meetings were cut down by over half." – Breaking Busy
I LOVE the concept of "editing" which means clearing out things that are hindering God's purpose in our lives.
"Each of us is called to do something great in this world. Discovering the place where we get to do what we were created to do is a great gift." – Breaking Busy
While not a primary theme in the book, I also appreciate the way Alli shares interactions with her husband as her sounding board. Mark helped confirm God's calling in various seasons and they approached breaking busy as a team. (Yay for submitted and committed marriages!)
Convicting at times, I found this book super encouraging as we seek to live and thrive in the fullness of God's purpose on our lives.
Have you read the book?
If so, I'd love to know what you think!
Click here to buy on Amazon. (not an affiliate link)