I love that the Bible is full of stories about real people and their mistakes, because mistake-makers are my people tribe squad (well, whatever the kids are saying these days).
I relate to the ones who make you chuckle and shake your head when reading the biblical accounting of their blessings and blunders. The ones who spend time with the physical presence of God, and then go off and forget what He said two chapters later. Who are given promises and then take matters into their own hands instead of waiting patiently for the Lord.
Yep, totally my people.
I spent some time this week reading the accounts of Jesus's death and resurrection in the gospels. 'Cause you know … Easter. In Luke 23, I met up with a group of women as they mourned for Jesus.
His Crucifixion
And as they led him away, they seized one Simon of Cyrene, who was coming in from the country, and laid on him the cross, to carry it behind Jesus. And there followed him a great multitude of the people and of women who were mourning and lamenting for him. (Luke 23:26–27)
His Death
And all his acquaintances and the women who had followed him from Galilee stood at a distance watching these things. (Luke 23:49)
His Burial
The women who had come with him from Galilee followed and saw the tomb and how his body was laid. Then they returned and prepared spices and ointments. On the Sabbath they rested according to the commandment. (Luke 23:55–56)
His Resurrection
Sunday morning rolls around and women arrive at the tomb at early dawn, with spices prepared for the body. They find the stone rolled away from an empty tomb.
While they were perplexed about this, behold, two men stood by them in dazzling apparel. And as they were frightened and bowed their faces to the ground, the men said to them, "Why do you seek the living among the dead? He is not here, but has risen. Remember how he told you, while he was still in Galilee, that the Son of Man must be delivered into the hands of sinful men and be crucified and on the third day rise." And they remembered his words, and returning from the tomb they told all these things to the eleven and to all the rest. (Luke 24:4–9, ESV)
Ah, my people.
I don't know if it was the same group of women at each stage, or if the ladies mentioned in Luke 23 are the same ones described in Luke 24 verse 10 "Mary Magdalene and Joanna and Mary the mother of James and other women with them" who tell the disciples what the angels said. But I think they are the same. These women LOVED Jesus.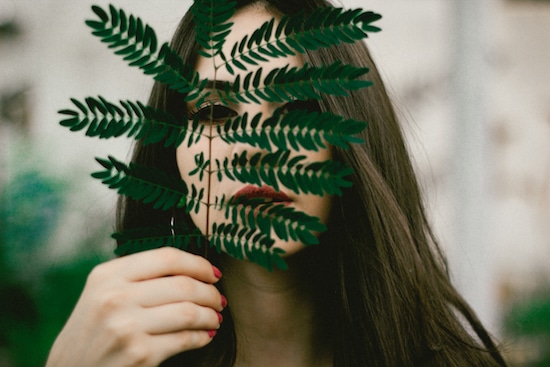 Yet somehow in the midst of their love, they'd forgotten what He told them.
Maybe it was due to their tremendous grief. The burden of His death clouding their recollection of His promised resurrection. Perhaps it was because His promise of life-from-the-grave sounded so unfathomable, too unrealistic, that it slipped their minds. Whatever the cause, there they found themselves, prepared with spices at the grave site with no body to caretake.
"Remember how he told you…"
How could you forget what happens on the third day? It's the reason Christ came to earth. The salvation for our sins, death-where-is-your-sting thing works because Jesus rose from the dead.
I feel almost kindred to these women in their forgetfulness. I know He is risen, but sometimes I forget.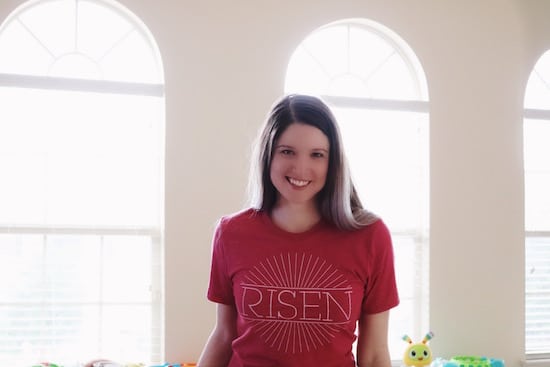 I forget that death has no sting because sin has been defeated by Christ's sacrifice.
I forget that I'm a royal priesthood, not just so I can be holy, but that I may proclaim the excellencies of Him who called me out of darkness into his marvelous light. (1 Peter 2:9)
I forget that trials are to be met with joy because the testing of my faith produces steadfastness (James 1:2–3) and that Jesus offers rest for the weary (Matthew 11:28).
I relate to these women standing in an empty tomb, perplexed by what they saw because it's not what they expected. And then they remembered His words and knew that He had risen.
So I'm claiming a new reminder for myself. Every day I want to look up from whatever perplexing circumstances confront me and remember the things Jesus told me. And maybe some of these days, I'll remember before I get all the way to the empty tomb.
– – –
Talking about reminders, I have a thing right now for comfy statement tees and I recently got this super cute shirt from Simply Bliss Boutique, again because Easter. But the testimony of the risen Christ isn't just an Easter story. It's every day. Like an everyday tee. 😉 Want to get one for yourself? Simply Bliss said I could pass along the code RISEN for 20% off these shirts! Or check out some of their other super cute stuff on their site or FB group!