I'm a semi-crunchy mama. I like to think that means I'm a hybrid kind of mom, using some conventional baby products and others more homeopathic/organic/natural. Since Jared and I both have sensitive skin and I try to avoid chemicals and save a buck when I can (you can save a major $$), cloth diapering became a natural choice.
But cloth diapering isn't easy. We've evolved from the cloth diaper with metal baby pins of earlier generations. Now there are hybrids, prefolds, all-in-ones, velcro vs. snaps, detergents, and the list goes on. I am by no means an expert, but here's a detailed look at what I use and why, with some diaper washing instruction sheets based on my routine and BONUS GIVEAWAY at the end!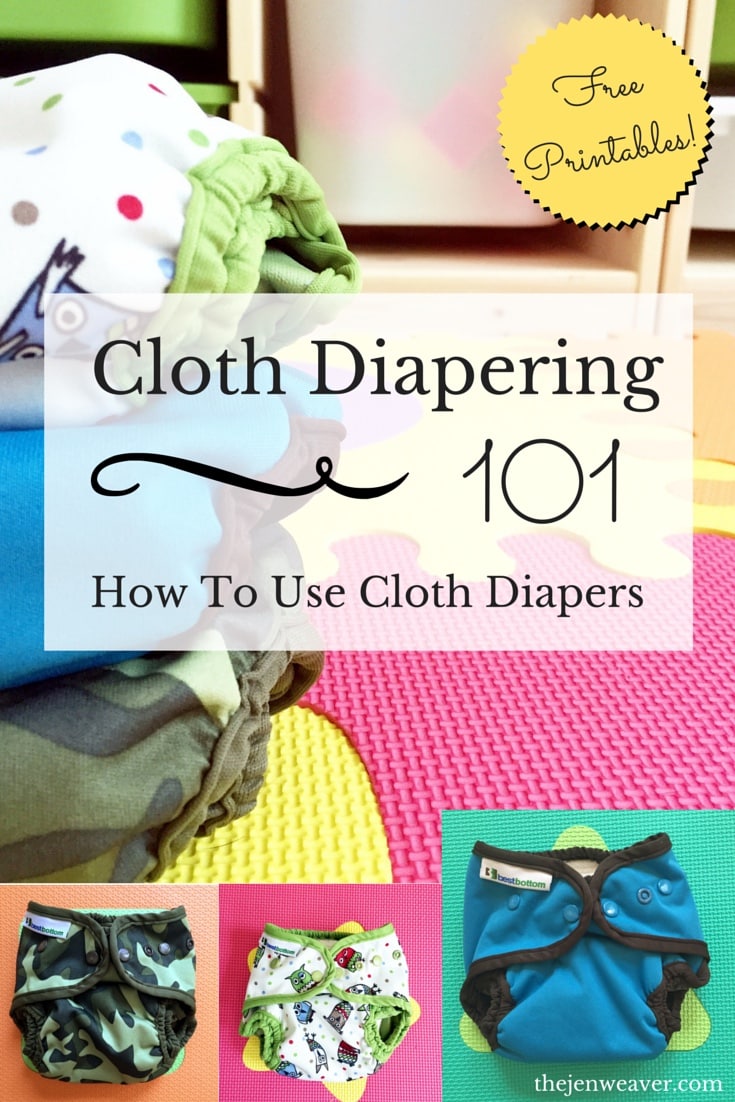 Note: this post has tons of links, but none are affiliate. I'm not saying these tips are the best way. They're just my way and have worked well for me. Oh, and special shout out to my friend Savannah. She taught me so much when I started cloth diapering. If you get anything good from this post, you have her to thank! 🙂
How to Use Cloth Diapers
Kinds of Diapers
I knew I wanted to use hybrid type diapers because I wanted the option to reuse the diaper cover if it didn't get wet or soiled. There are lots of hybrid type options available (I'll talk about 2) but the commonality is that you can reuse the cover if only the insert is dirty. With other cloth diaper designs, like all-in-ones or pockets, the whole thing becomes dirty with each use, so you need more diapers to get you through the day.
Side note: if you want the absolute most economical option, you want prefolds with snappis and some kind of PUL cover to keep the moisture in. I used prefolds as inserts in hybrids, so I only talk about using hybrids in this post.
I started with gDiapers in the newborn and then small sizes. I used the gDiapers disposable inserts in them and Green Mountain prefolds, which I would fold into 3rds and stuff into the little pouches. gDiapers lay a bit flatter than some other cloth diapers, so they look more like disposables when baby is dressed, but you have to buy new covers and inserts for each size as baby grows. I liked them just fine but by the time my Lil' got into the smalls he was soaking them too quickly (heavy wetter). We moved to Best Bottom Diapers with Hemp/Cotton inserts (I like to buy them from Nicki's Diapers) and have never looked back. I also like that Best Bottom's grow with the kid, so he can use these diapers until around 35 pounds.
How To Start With Cloth Diapering
Here are the basics:
Figure out what style you want. Are you going for prefolds, hybrids, all-in-ones, pockets or … ? You may want to try a few different styles just to figure out what you like best. We started with gDiapers in newborn and small and then transitioned to Best Bottom.
Figure out what brand you want. For simplicity I'll talk strictly about Best Bottom's moving forward because that's what I know best.
Figure out what features you want. Best Bottoms have both velcro and snaps. I like snaps because to me they last longer, but it's really a matter of preference.
Start your diaper stash. Best Bottom Diapers recommend 8-10 shells and 18-24 inserts per size. I lost count but I think I have 10 shells and about 20 inserts (all are the hemp / cotton blend) and I have enough to do laundry every 3 days. Included in my stash of inserts is 4 overnight doublers and his night-time diaper lasts from 6pm until 8am the next morning (and remember, he's a heavy wetter!).
Prep your diapers. All inserts must be washed before first use. You want to wash them on hot at least 5 or 6 times (and dry them in the dryer between each wash). This helps them shrink and get out any oils that would keep them from absorbing properly. I bought all my inserts new so if you buy previously-loved there is probably a different process. Covers you can wash on cold if you want but you don't have to prep them.
Stock up on supplies. Besides the diapers themselves, there are a few other things you'll want when starting to use cloth diapers. Here's what we used:
A trash can as a diaper pail. We got ours off Craigslist for around $30.
(2) PUL wet bag pail liners. These are for the diaper pail, one to use, the other as backup to use on laundry days. I can't find where we bought ours but they look like these ones.
(4) mesh bags. We get ours at Wal-Mart but I think they were cheaper than the online price. They don't need to be huge, these are for the covers and you just need them to have room to move around when washing so you may need to use two mesh bags per load on occasion.
(2) PUL wet / dry bags to use in the diaper bag for diaper changes when you're away from home.
Cloth wipes. This is optional but I find they work better than disposable wipes. We have 30 2-ply ones from Tender Bottoms on Etsy and they would last us if I stayed caught up on folding them and restocking the warmer. We also have some disposable wipes on hand to use when I fall behind.
Wipes warmer. Totally optional but we like keeping the wipes warm. I just use water. We use this one and it works great although it's technically not made for cloth wipes.
Detergent and white vinegar. We use Tide Sensitive Skin liquid. There are special detergents just for cloth diapers but I found mixed reviews online so I started with the soap we already used and it works great on the diapers. And we use white vinegar (we get huge bottles from Costco) to use in washing the inserts.
Clips or Racks to dry diapers. The inserts go in the dryer but everything else needs to hang dry.
Washing Cloth Diapers
Here's where it gets real. What do you do with all the dirty diapers? I've created a color coded cheat sheet to help with my cloth diaper laundry routine and it's available for FREE DOWNLOAD! While I can do this laundry in my sleep now, these cheat sheets were invaluable when we started out. If you have anyone else who may help out with laundry (husband, mom, babysitter etc.) I highly recommend having a printed guide otherwise your PUL covers may end up in the dryer with not-fully-rinsed inserts and you have all kinds of a mess.
Another Disclaimer: These washing instructions are my opinion based on the routine that has worked for me and are not affiliated with or endorsed by any of the products, brands, or companies mentioned. Use at your own risk. 🙂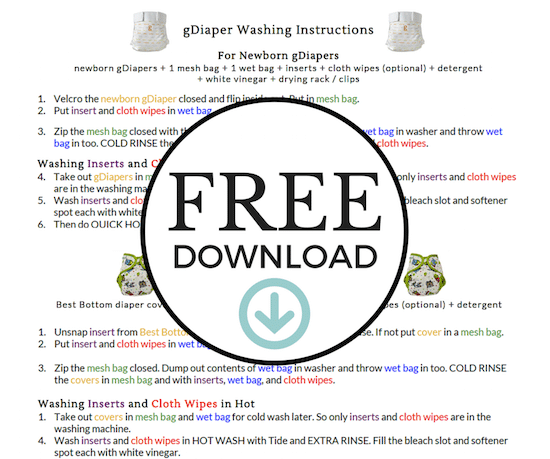 Click here to download the laundry instructions for both gDiapers and Best Bottoms (aka all hybrids with a separate insert and cover).
When They Start Eating
Warning: don't read this part while eating if you're not yet a mom. If you have kids already it won't bother you. Poop is part of a mom's everyday life in ways we never expected before motherhood. HAHA 😉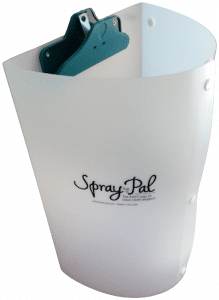 Cloth Diapering requires an extra step once your babe starts eating real food. Breastmilk poop is water-soluble (I've heard formula fed poop is not but I'm not sure on that one). Regular poop is definitely not, so you'll need to shake or spray it off over the toilet before putting it in your wetbag for future laundry. There are tons of tutorials on Pinterest on how to build your own sprayer to attach to the toilet. We found one and went to get the parts but for only a few bucks more we could get a complete one at Home Depot so we just got that one.
Here's the thing though, no matter what kind of sprayer you use, the water will hit the diaper and then ricochet off and get everywhere. So unless you want to shower and clean the bathroom after every diaper change, I highly recommend getting a product like Spray Pal. We got ours about a month ago and love it! There's a small learning curve as you figure out your process, but it makes cleanup so much easier!
In fact, we love it so much that we're offering a sponsored giveaway! One lucky winner will receive a Spray Pal, so don't forget to enter below!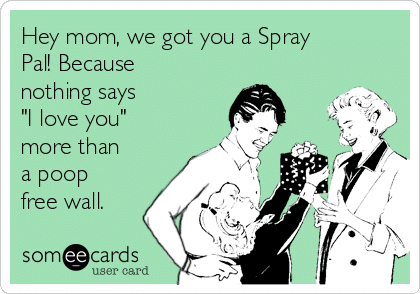 Random Tidbits
Okay, I think that is just about everything in Cloth Diapering 101. Here are a few random tips that don't really fit anywhere else:
Stained Does Not Mean Dirty. Over time your diapers will get stains. If you want to treat spots on the covers use straight detergent and scrub it on the spot with a small brush (we have a designated toothbrush for the laundry room). Let it sit for 20 minutes or so and then wash like normal. You can also put diapers out in sunlight outside or through a window as sun bleaching will remove some stains.
Sometimes You Gotta Hold Them In Your Hands. I did a ton of research online but nothing helped as much as talking with a friend as she walked me through her process and a visit to a local cloth diaper store. We have The Nappy Shoppe in the DFW area and I'd encourage you to see what specialty stores you have locally to help you learn. Many diaper brands also have Facebook groups of other moms sharing info and tips.
Find Out What The Manufacturer Says. Make sure to find out what your manufacturers say. This goes for the type of washer you use, the detergent, and diapers. I wouldn't have known to stop using dryer sheets if I hadn't read manufacturer info. (Dryer sheets coat the dryer and the diapers with a film that hinders absorbency.)
You Can Do This. If you want to cloth diaper YOU CAN. I know it's ridiculously daunting and the options are overwhelming but you'll figure it out.
You Don't Have To Do This. Unless your budget requires cloth diapering, don't feel like you have to use them. If you buy a few and don't like it, you can resell them. I know it's a bit of a trend right now, but cloth diapering doesn't make you a good mom. You love your kids. You do your best. Cloth diapering may be a good fit for you but it's okay if it isn't.
How To Use Cloth Diapers Giveaway!
You made it to the end of my crazy long post! And as your reward … a Spray Pal giveaway! I hope you win! 🙂
a Rafflecopter giveaway