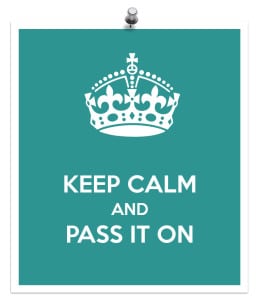 Today's Make a Difference Mondays post is short and sweet: Keep Calm and Pass It On.
Calmness is often under appreciated. In a world of hype and excitement, we can forget the value of peaceful moments. Rest in a season of busyness. Tranquility amongst tumult. The ability to remain unfazed when life throws us crazy curve balls.
I'm reminded of the story of Jesus calming the storm in Mark 4. With a few words, "Peace. Be Still." the winds died down and the waters became calm. Allow Jesus to speak these words into your own heart and life. And then … pass it on.
We have the capacity to bring peace into whatever circumstance we face. But we can only bring what we already have. As you live a life of faith, be intentional in bringing the calm of Jesus into conversations and interactions. Your steadfast hope will encourage and empower others, sometimes without them even realizing it.
"He caused the storm to be still, So that the waves of the sea were hushed. Then they were glad because they were quiet, So He guided them to their desired haven." Psalm 107: 29–30
Want to download this graphic as a free PDF printable to remind you throughout the day? Click here!
Join Us For Make A Difference Mondays

[inlinkz_linkup id=423272 mode=1]

[jetpack_subscription_form]