I have a son! He came in his own timing, born at 5:43 AM on Thanksgiving Day—5 days early and after a dramatic water-breaking in the Chipotle parking lot. 🙂 Our Lil' Man is the most amazing gift I've ever received. Period. Hard days and tear-filled nights included.
I hope you've enjoyed the guest posts I've shared these past few months and that these thoughtful words have encouraged and inspired your heart as they have mine. I have the final guest post of my "maternity" series coming live this Wednesday so be sure not to miss it! But I am joining with a few other mommy bloggers to bring you an Honest Co. giveaway that starts today so I had to pop in a bit early and say hello! (Enter the giveaway below, it's especially great for new or expecting moms!)
As you can imagine, having a kid changes a person. A LOT. On the blog you'll notice some changes as I narrow my focus. In the past, I've pretty much written about anything under the sun. From Mr. Rogers to managing my inbox. And while I can't *won't* promise that random posts won't sneak in from time to time, I'm excited about focusing on the newly minted things in my life—specifically in motherhood and marriage.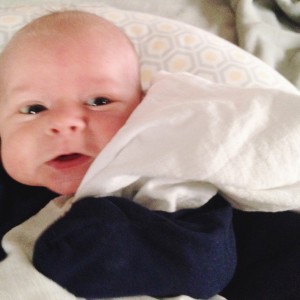 Since motherhood encapsulates a good 159% of my life now, I find inspiration everywhere. So I'm back, really back as of next week, but as a slightly new version. Curious about the other ways I've changed as a freshly minted mom? Read on!
Spit up doesn't bother me. It's a given.
My memory is SHOT. Not only am I competing with a whole new to-do list bouncing around my head, but that pregnancy brain thing hasn't gone away.
A hot shower is a blessing from the Lord. As is the chance to eat a hot meal while it's

still hot

.
Burps and bowel movements are something to celebrate. His of course. If you're thinking mine … think again.
I'm WAY more productive. Naptime may only last an hour and I have 20 things to get done—my personal best: 18.
And on a more serious note:
I'm learning to depend on God at a whole new level. (The first week home I had Chris Tomlin's "Lord I Need You" on repeat.)
I wrestle with new guilt, especially for taking time for myself. And I'm working on that.
I have a new appreciation for the partnership I have in a strong supportive husband.
I have a new ministry. My heart now lives outside of my body—captivated by a lil' man who can't even hold his own head up yet. It's scary wonderful.
I can't wait to catch up with you all over the coming weeks! Now about that giveaway: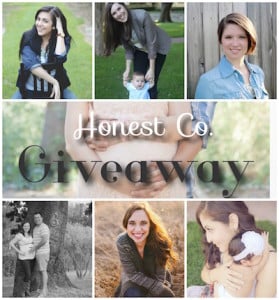 You know me, but who are these other gorgeous women? We have Evi from Eyeliner and Erasers, Susannah from Simple Moments Stick, Kayla from Many Sparrows, Terrence from Girl Repurposed, and Susana from Hurray I'm a Mommy! Check out their sites and enter below for some fantastic prizes!
Our Super-Helpful Honest Co. Bundle:
Conditioning Detangler
Organic Belly Balm
Healing Balm
Organic Baby Powder
Diaper Rash Cream