I met Kristin Ungerecht via the Make a Difference Mondays Linkup and couldn't be more excited to share her guest post with you today! Great inspiration as we start off the new year!
—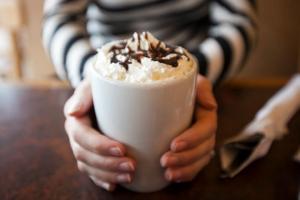 We live in a world where too often we're not fully engaged with the moment we're in. We're glued to our screens, our circumstances, and our lifestyles. We live in what's comfortable—whether that be our favorite pair of yoga pants or our Thursday night television line up. Our lives can be very focused on ourselves and not on those around us.
It's an unsettling feeling to be sitting at a table with a friend, trying to share your life with them, and find yourself staring at someone who can't look up from their iPhone. It's heartbreaking to be struggling through a family emergency and not have someone there to hold your hands, look you in the eye, and say, "what can I do?"
Sometimes I think God just wants us to show up for each other.
That's it: just show up.
I was reading about Paul arriving to Rome in Acts 28. He was arriving there as a prisoner, having gone through an incredibly trying time in the journey. He had been arrested. People were plotting how to kill him. He was being passed from tribune to council to governor as part of his trial. He went through appeals and shared his testimony many times. Then, on his way to Rome, he is shipwrecked and it is three months before his journey continues. After all of that, he finally makes it to Rome.
As I was reading his story, I was struck by verse 15:
"And the brothers there, when they heard about us, came as far as the Forum of Appius and Three Taverns to meet us. On seeing them, Paul thanked God and took courage."
These brothers in Christ heard about what was happening. They knew Paul had been struggling. They knew this was due to his faithfulness to share the Gospel. They knew he was a prisoner. And they showed up when he arrived.
I want to be that type of friend. The one who makes it a point to check in with you. The one who puts the phone away and looks you in the eye. The one who prays over you. The one who not only knows when you're expected, but also is waiting for you when you arrive. I want to be the one who shows up, just to say with actions, as much as with words, that I see you. That I know it's hard, but I see you and I love you and I'm here.
Coffee dates have become one of my favorite things for that reason. I don't know what it is about two cups of foamy beverages that opens the door to honest conversation, but somehow it sparks that desire in people to share. When I see a friend is going through something – struggling through circumstances or celebrating a moment of victory – I like to meet them for coffee. It's more than an invitation to share space and time and enjoy a drink. It's an invitation to share the nitty-gritty of it all, to tell the story of what's been happening and how God is moving.
Acts 28:15 struck me so greatly because those brothers didn't do anything particularly inventive. They simply showed up where Paul was. It was merely the sight of his brothers in Christ that built up Paul's courage. God uses us when we show up, when we allow ourselves to be truly present.
You never know what your arrival in a moment will do for someone else's story. You never know what your availability will be used by God to do for someone else's journey. Just the sight of you could change their heart from doubt to faith, from fear to courage.
So show up. Be present in the moments you're given. Arrive "from as far as" so someone else's faith can be built up and their heart take courage for the task appointed to them. Be available for the people around you, love well, and watch with an expectant heart to see what God will do.
About Kristin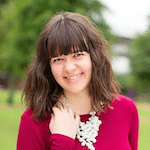 Kristin Ungerecht is a tea-drinking, Jesus-loving story-teller living life in Northern Kentucky. A brave heart bursting out of a shy shell, Kristin believes in chasing after Jesus into bold adventures, even when it seems crazy. She recommends doing so while wearing red lipstick.
By day, you can find her working as a virtual assistant and Pursuit Conference co-planner. Find her over at her blog or on instagram @kktoday.