Wow, I can't believe it's Sunday already! Good news though, that means it's time for week 2 of our Sunday Bulletin! 🙂 If you're joining us for the first time, this weekly post is short and sweet. A chance to get organized for the week ahead and recharge a bit.
This week's theme is Found.
Life Hack::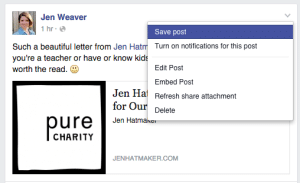 Talking about finding things … did you know that you can save things in your Facebook feed to read later?! Maybe I'm late to the party, but here's how:
Click the little drop down arrow and select "save".
When you have the time to read, go back to the Home view of FB and select "Saved" to see the list of all your saved posts. So easy!
My Week's High and Low::
High: Got a seed of an idea for a new book! It's fiction, which is exciting and intimidating and caffeine-need-inducing all at the same time. To early to tell if it will grow from concept to words, but I'm loving the gooey excited feelings.
Low: Dillon is still battling a cold or something, which lends to some difficult days. But his cough is gone, so things are looking up!
How was your week? I'd love to hear about it! Comment below or join the conversation on Facebook.
Faith-builder::
The iPhone wallpaper this week is inspired by the idea of being found, a welcoming door tucked away in overgrown foliage. Plus, I love the fall colors. 😉
I was singing *mumbling along* to the worship song "Found In You" (links below) when putting Dillon to bed this week and a new thought arrested my focus. I pictured Dillon being a bit older and wandering through the house looking for me. And here's the thought. I want him to expect to find me with Jesus. To be found in Him. Not necessarily reading my Bible or praying in that moment, but still enjoying and carrying the presence of my King.
The beauty of this thought is that God wants that for us too. We're being made new. That includes our perspectives, habits, and the sense about us. Whether I'm cleaning, working, cooking, or resting, I can be found in Jesus.
Want the free iPhone wallpaper? If you're reading this post via email, simply scroll to the bottom of the email and click the button for the "Free Subscriber Library" to download. Or click here to sign up and gain immediate access to the full library of free resources!
Date Night Idea::

I love scavenger hunt date nights, and we've used this date idea several times. Sometimes one of us will plan the "hunt", other times we'll make a list of 5-10 random things and then see how many we can find/photograph throughout the night. Here's a few ideas to get you started:
A duck in an unexpected place (could be a live duck, a logo, on a sign etc.)
A couple on their first date
Paper money on the ground
An unexpectedly delicious dessert
Best friends that look related
A giant stuffed animal
Laughter:: 
Watch on Facebook: Dillon Laughing
I promise, these posts won't always be about my kid. But his laughter in this video is so contagious I can't think of anything better to share!
Book of the Month::
This month's book is The Life-Changing Magic of Tidying Up. I liked the idea of decluttering but thought Marie Kondo's folding and organizing techniques were a bit unnecessary. Well, I tried 'em anyway and THEY WORK. I'm never realized what a difference it could make to hang clothes ascending to the right side of the closet, and I know I sound like a crazy person, but the closet feels so much lighter and fresher. Tip: I didn't quite understand the folding method until I found YouTube videos like this one. 
Rest::
As I mentioned earlier, I'm loving the worship song "Found In You" by David Eric Moore (YouTube and iTunes).
That's this week's bulletin. What does the week ahead have in store for you? Anything you'd like to see next weekend?