Hello Friends! If you've been around my site for a bit, you know I'm about sharing strength. Each time you leave my online home, I want to send you with a bit more encouragement, that you'll feel empowered for the road ahead. With this in mind, I jumped at the chance to introduce you to an online friend, Jess Ronne.
As you'll read below, I believe Jess practices 2 Corinthians 1:3–4, sharing her tumultuous journey with others so as also to share the comfort she has received from God.
Praise be to the God and Father of our Lord Jesus Christ, the Father of compassion and the God of all comfort, who comforts us in all our troubles, so that we can comfort those in any trouble with the comfort we ourselves receive from God. 2 Corinthians 1:3–4
No matter what mountains you're facing today—from terminal illness to high-energy kids trapped at home for summer break—I know you'll benefit from her testimony of God's enduring faithfulness. PLUS I have a free copy of her book to give away at the end!
---
Hi y'all!
Thank you Jen for asking me to write a guest post introducing myself and my recently published memoir, Sunlight Burning at Midnight.  For starters, my name is Jess Ronne, and I never really know what to include or not include in these introduction posts as I tend to be an open book with every aspect of my life as you'll soon discover on my blog jessplusthemess.com.  I am a believer in living as authentically as possible as I have experienced how cultivating this trait can lend to truly helping others through difficult times.  I strive to model this ideal in many avenues including: writing, parenting, marriage, friendship, and of course, on social media (if you follow me on Facebook or Instagram, you'll get lots of non-staged, messy, the opposite of Pinterest, worthy moments – just keepin it real).
I recently released my memoir Sunlight Burning at Midnight which details an eleven year journey (and took eleven years to write!) and begins with the terminal diagnosis of my unborn son, continues through a three-year cancer battle with my late husband, and culminates with my beautiful, unexpected life today in rural Tennessee living a simple life with 8 kids, (5 bios including Lucas, my miracle boy, and 3 adopted), my husband Ryan who is my best friend, some chickens, too many cats due to a neuter problem, and our dog Dante.
In 2015 our family experienced 30 seconds of fame when I was 7 months pregnant with our 8th child.  My husband and I were busy cleaning out a rental property when we received a call from The Today Show – YES, THE TODAY SHOW. They asked if they could send a crew to our house around 2 p.m. for an interview.  I was filthy.  He was filthy.  Our house was filthy.  I desperately needed a nap, but of course I said yes and then proceeded to about lose my mind as I quickly cleaned the house, took a shower, put on some makeup and pretended like the whole thing was completely manageable.  All in all, it was a great memory and something we can brag about for years.
In my spare time, which I don't have a lot of and which God is constantly teaching me lessons about—specifically lessons in patience, grace, and slowing down—lessons I often struggle with in my first-born nature as I have a tendency to be a tiny bit strong-willed along with a desire to accomplish it all RIGHT NOW. Do it all for the Kingdom! Write all the life changing words! And start all the non-profits for all the handicapped children!  But realistically, I don't have that kind of time in my present reality, and He patiently reminds me that my mission field, right here, right now, is raising these kids, and that there will be plenty of time (God willing) to do all the magnificently, big and seemingly holy endeavors later on.
I am passionate about my family and my marriage as I believe the two go hand in hand.  They say, the experts I suppose, that the best gift you can give your kids is taking time for your spouse, and Ryan and I make every effort to connect with each other as often as possible.  He and I have learned through our losses (he was a widower) how quickly life can change, and we are diligent about carving out alone time which includes a weekly date night—yes, even with 8 kids.  I'm also passionate about advocating for special needs children, and I hope to have more time for this in the future.  I love long walks as it's usually as I'm trekking along, putting one foot in front of the other, that God speaks to me about the important things in life.  I also love wood fire pizza and make it on a weekly basis because where we live we don't have any delivery pizza options—yes, we are that rural.
I try to always be thankful, sometimes I get crabby, sometimes I can't believe God thought I would be a good option for all these kids, usually I feel extremely blessed and wouldn't change a thing, and I always try to live by my mantra of "Just keep livin!" I think that about covers it.  I'd love to connect on Facebook or Instagram if you want to reach out.
---
I love how Jess shares the real everyday, because that's where faith grows, right? If you're interested in her book, Sunlight Burning at Midnight it's available on her blog and most places books are sold online, including Amazon (my affiliate link). She's running a special through labor day on her site $11.99 for autographed copies on the blog www.jessplusthemess.com  and free shipping!  Even better rates than Amazon!  😉
About the Book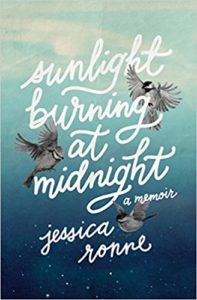 Starting out in life as a young wife and mother, you never imagine the ways your hopes and dreams might be completely shattered. For Jessica and her husband Jason, a series of unrelenting heartbreaks struck, beginning with their baby's diagnosis with a life-changing disability. Just a few short years later, thirty-three-year old Jason lay in a hospital bed, battling a Glioblastoma brain tumor. And within the span of six years of marriage, Jessica became a widow left alone to care for their four young children, including one with special needs. But the story doesn't end there. In the midst of storm after storm, Jessica stubbornly clung to God, and she found him to be faithful. Enter Ryan Ronne, a young widower and father of three. Ryan had also lost his spouse to brain cancer-in fact, around the same time Jessica's husband, Jason, had succumbed to the disease. Just as the idea of sunlight burning at midnight sounds impossible, so it seemed unlikely anything beautiful could arise from their devastation. But a new love story emerged, along with a combined family that now numbers eight children. Here, Jessica Ronne tells her riveting story of finding hope amid havoc, and of the surprising ways that pain often commingles with joy.
Interested in winning a free copy of Sunlight Burning at Midnight? I have one to give away! Come join our conversation on Facebook and I'll randomly select one commenter to send a free copy (entrants in the continental United States only please).