How To Bloom Where You're Planted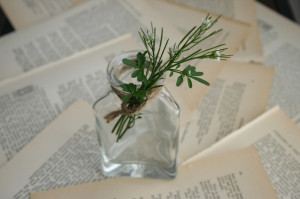 If you follow me on instagram (@thejenweaver) you've probably noticed a seasonal change in my photos—I am ready for spring! But the transition from flip-flops-and-garden-planning-80-degree-weather yesterday to icy-roads-and-19-degrees today got me thinking. When circumstances change, how do you still bloom where you're planted?
Whether your new environment is simply moving from the weekend to workweek, or you're facing new areas for personal perseverance, here's what I've discovered: we can bloom no matter where we are planted if we are first planted in the Word.
1. Keep the soil of your heart soft before the Lord.
Difficult circumstances can harden our hearts, or produce weeds if we let them. By investing time in the word and applying it to our lives we allows God's truth to grow within us.
"A farmer went out to sow his seed. As he was scattering the seed, some fell along the path; it was trampled on, and the birds ate it up. Some fell on rocky ground, and when it came up, the plants withered because they had no moisture. Other seed fell among thorns, which grew up with it and choked the plants. Still other seed fell on good soil. It came up and yielded a crop, a hundred times more than was sown…This is the meaning of the parable… the seed on good soil stands for those with a noble and good heart, who hear the word, retain it, and by persevering produce a crop." Luke 8:5-8,11a, 15
2. Seek His direction.
God has plans and a purpose for your life. He wants to guide you and fully supply for all of your needs.
"The Lord will guide you always; he will satisfy your needs in a sun-scorched land and will strengthen your frame. You will be like a well-watered garden, like a spring whose waters never fail." Isaiah 58:11
3. Trust in Him
Put your confidence in God. He has you covered. You don't need to rely on yourself, in fact, that's actually the worst possible thing you could do.
"Cursed is the one who trusts in man, who draws strength from mere flesh and whose heart turns away from the Lord. That person will be like a bush in the wastelands; they will not see prosperity when it comes.
They will dwell in the parched places of the desert, in a salt land where no one lives. But blessed is the one who trusts in the Lord, whose confidence is in him. They will be like a tree planted by the water that sends out its roots by the stream. It does not fear when heat comes; its leaves are always green. It has no worries in a year of drought and never fails to bear fruit." Jeremiah 17:5-8
4. Choose to display His glory.
We all want to be seen as beautiful and attractive. But we are here for the Lord's glory, not our own. If my actions go unnoticed, I'm overlooked or feel slighted, I can still give glory to God by how I respond. My own glory requires that I'm noticed, God's glory does not.
"They will be called oaks of righteousness, the planting of the Lord, to display his glory." Isaiah 61:3b
5. Get to deeper, richer soil.
Each day, job, task, and circumstance represents a place you're planted–at least at the surface level. But we have access to soil more nutrient than what daily life could ever offer us. Tap into it! Don't be distracted. Dig your roots down deep in the Lord and you'll flourish no matter what storms may come your way.
"Blessed is the one who does not walk in step with the wicked
or stand in the way that sinners take or sit in the company of mockers, but whose delight is in the law of the Lord, and who meditates on his law day and night. That person is like a tree planted by streams of water, which yields its fruit in season and whose leaf does not wither—whatever they do prospers." Psalm 1:1-3
Praying for glorious blooms and tremendous growth in your life today, no matter what the circumstances—or weather—brings!
How do you bloom where you're planted?
[jetpack_subscription_form]
Subscribe
Receive more awesomeness in your inbox.