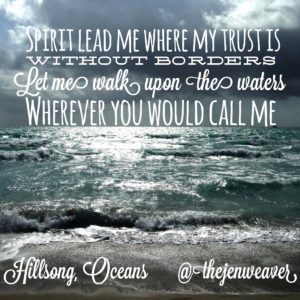 I'm learning to trust. You'd think after almost twenty-nine years of life I'd have learned this by now. But as I'm learning … my trust in God is still a work in progress.
Here's the funniest part. I am a flawed person. Out of anyone on earth, I know my faults and flaws the best. Yet I still default to trust in myself and not trust in my creator.
Confidence in what I can strategize.
Reliance on my own abilities.
But self-trust leaves me with heavy burdens. So I'm still on the training course as God brings me new opportunities to trust in Him. Responsibilities too big for me. Too lofty for me to handle by myself, and circumstances far beyond my control or understanding.
"Trust in the Lord with all your heart and lean not on your own understanding; in all your ways submit to him, and he will make your paths straight." Proverbs 3:4-6
One my theme songs for the past year has been Oceans from Hillsong United. If you haven't heard the song, check it out below. And if you're familiar, you know another listen is well worth it!
[embedplusvideo height="350″ width="450″ editlink="https://bit.ly/1kWevyy" standard="https://youtube.com/v/dy9nwe9_xzw?fs=1″ vars="ytid=dy9nwe9_xzw&width=450&height=350&start=&stop=&rs=w&hd=0&autoplay=0&react=1&chapters=¬es=" id="ep9639″ /]
Being out in the unknown makes me nervous. Depending on the circumstance, it downright terrifies me. But I so desperately want trust without borders. For my faith to be made stronger in the presence of my Savior.
And so I'm learning to trust and to get out of my own way to follow God's leading in my life.
"The Lord is my strength and my shield; my heart trusts in him, and he helps me. My heart leaps for joy, and with my song I praise him." Psalm 28:7
Source Photo Credit: milan.boers on Flickr
[jetpack_subscription_form]
Subscribe
Receive more awesomeness in your inbox.