Can You Answer The Right Question?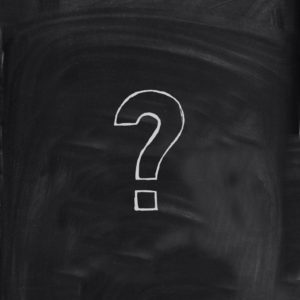 Like most people, I like to be prepared. I'm the gal that started planning her wedding months before Jared proposed, just because I knew it was coming. I painted the nursery a few years before becoming pregnant and, not surprisingly, I love doing research.
While it's good to be diligent, to work hard and prepare for the future, God's been talking with me about my tendency to focus on finding answers to the wrong questions.
Like a moth to flame or child to chocolate cake, I'm drawn to all sorts of possible scenarios:
What if … ?
What will happen when … ?
What should I do about … ?
How can I make this work?
These questions leave me guessing. Wondering, sometimes worrying, and a whole lot of self-reliance as I seek out the right response. When reading 1 Peter 3:15, for a split second I thought I'd finally found justification for my answer-seeking. "Always be prepared to give an answer."
Jackpot.
To have to know, to configure, and stress, to find my answers because I must be prepared. Equipped with a response for what happens next in life, where we're going, what we're doing, and why, and how we're going to get there.
But I kept reading.
"But in your hearts revere Christ as Lord. Always be prepared to give an answer to everyone who asks you to give the reason for the hope that you have. But do this with gentleness and respect" (1 Peter 3:15)
All this time, I've been focusing on the wrong questions. Questions that build up personal confidence and self-trust. Solutions that show my ability to plan and strategize. But the right response doesn't put hope in myself. It spotlights the hope I have in God, beyond what I understand or can figure out on my own.
Can I answer the right question?
Why have such hope? It's not because I can respond to every what if scenario or come prepared with backup plans. No I have hope because my Savior lives. He cares for me out of the overflow of His endless love and kindness. His plans for me are good and He will lead me into spacious places. My lot is secure.
I choose to prepare answers to the right question. To focus on what I know of God and not what knowledge I can build about my circumstances. And something tells me, that will make all the difference. 🙂
Join the Make A Difference Mondays Linkup!

[inlinkz_linkup id=415948 mode=1]
[jetpack_subscription_form]
Subscribe
Receive more awesomeness in your inbox.