Y'all, I'm 'bout to unpack the truth about submission in marriage. But first, a story. ?
My husband, Jared, and I moved from California to Texas in 2010. We sold or shipped most of our belongings, crammed the rest into our little black Honda coupe and drove our way to our new home.
As we passed from New Mexico into the wide-open spaces of West Texas, we started seeing new highway signs posted along the interstate. I don't remember the phrasing exactly but it was something along the lines of:
Don't drive on the median. Don't drive on the grass.
Coming from suburban California city life—where I'd expect double the number of Priuses as RAM trucks—we found these warnings humorous.
Would someone really lurch their vehicle off the pavement to traverse ditches and wild vegetation just to land on a frontage road?
As a Texan of seven years now, I'll tell you. Yes. Yes, they will. I've even sat in stalled traffic wishing I had a rough and tumble truck so I could do the same thing.
But I'm going somewhere with this.
It's my pleasure to chat with you about A Wife's Secret to Happiness as part of our Book Blog Tour. And I get to share about my response to chapter three. The submission chapter.
I sat down to write this post and wanted to reiterate the whole section back to you. But you've just read those pages yourself—or are in the midst of reading them—so that's not going to help anyone. Click here to get your copy of the book on Amazon.
Instead, I'll get more personal.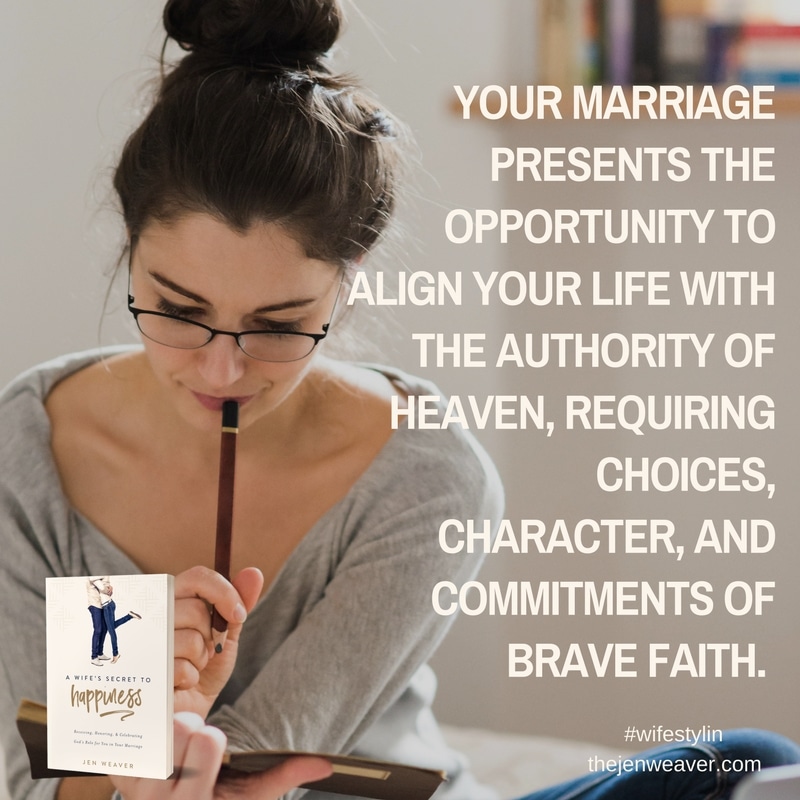 Submission is not a call to life on the sidelines with a silenced heart.
It doesn't excuse mutual consideration, but encourages it—husbands with love and wives with respect.
Submission means recognizing my spouse as the leader in my home and responding to him as such. Anywhere he has an opportunity to lead, I can yield to his guidance and follow, or refuse his authority and set out on my own. A wife's genuine submission is a volitional attitude, a voluntary heart perspective she chooses for herself—not something her husband can take from her. She must decide that it's more important to live as a team than to have the independence to do what she wants. When she releases a decision, a responsibility, or preference to submit to her mate, "as to the Lord," her relationship becomes a continuous act of love and worship unto God …

We seek unanimous decisions, but Jared has the final word and final responsibility before God for what happens to our family. Sure, it's hard when we disagree. But I fight to submit. I'd rather reach 10 percent of my dreams but live approved by God than fulfill 90 percent of my passions in resistance to my husband's leadership and, therefore, outside God's favor.

– A Wife's Secret to Happiness, p. 54 & 55
But knowing those things hardly helps at all when it comes to the nitty-gritty of submission in real life. Like when you're ready to do anything to have a baby and your husband isn't.
I talk a little about our struggles with infertility coming up in chapter eight. How we miscarried. And how we reached a pivotal moment of deciding whether to proceed with artificial insemination via an IUI.
Jared didn't have peace about it.
I would have swallowed pond scum, shaved my head, and taken a vow of silence if it meant having a baby.
We waited a year, and God provided a son. But let's talk about that in-between time. The twelve months of waiting when everything within me screamed for a baby. If you've ever survived a prolonged season of desiring a child, you've known yearning that goes deep into the pit of your soul. Each month my hormones, uterus, and growing mama heart practically begged for the child I wasn't sure I'd ever have.
In this season, I got to practice the words I'd later write about. Sure, I exercise these habits at other times, too. Adhering to our budget. Executing on family goals. But this barren womb circumstance proved one of the hard ones. A time moving so painfully slow that I eyed those "don't drive on the median" signs and considered taking them on.
But I wasn't willing to let the desire for a growing family bring division in our existing family unit of two. My 4-wheeling detour would have looked like me trying to pressure Jared into agreement. Or nagging him enough that he'd give in or give up on the baby thing altogether, and I'd end up like the stranded pickup I saw in a ditch the other day because the driver misjudged the perils of the "shortcut."
So, I fought to submit.
I learned when to bite my tongue and when to let it loose. I worked to form my thoughts and perspectives so I could verbalize my desires without giving free rein to emotion.
I prayed.
Scripture talks about golden bowls of incense in heaven, which are the prayers of God's people. If there is a container in heaven holding my prayers for a baby, I flooded that bowl.
I messed up a ton in the process, but I worked to receive my husband as a leader in my home. I chose to believe that Jared lacked peace in that course of fertility treatment for a reason, and that no matter what, God would use it for our good. And thankfully, both proved true.
You don't need to be perfect at this submission thing for it to make a radical difference in your life and marriage. Cultivate the heart perspective and choose it again and again. Fight to keep right perspective, and to stay in the lane as you journey through life in partnership with Jesus and with your hubby. It's worth it.
Have you faced a difficult decision in the past and seen God's favor because you chose submission over self-reliance or independence? Would you like to share with us?
Please Note: Abuse is never ok and maltreatment includes untreated substance abuse and mental health issues; unrepentant infidelity; and fiscal, emotional, spiritual, physical, sexual, and verbal cruelty. If you're in an abusive marriage, your actions alone cannot heal your relationship. Please find support from a Christian counselor or organization that ministers specifically to this need.
Subscribe
Receive more awesomeness in your inbox.