Sometimes the hardest thing about starting something new is the fear of doing it wrong. Especially when you look around at the experts in cardio class, or the experienced moms in the church nursing room and everyone seems to carry innate skills missing from your DNA.
Believe me, I've been there. Shoot, I'm about to be there again with baby #2 on his way. (Confession: the very thought of me solo at the grocery store with a toddler and infant T E R R I F I E S me. But I'm off topic…)
I've loved hearing from many of you about how How to Pray: 5 Steps for Beginners has encouraged your connection with God! If you haven't read them already, I have some follow-up posts you may find helpful: What Is A Prayer Life? and When You Don't Have Time To Pray. I also wanted to take a minute to answer some questions I've received about learning to pray.
If I miss my quiet time, I hesitate to talk to God throughout the day. Is it rude to try to talk with God later if I missed our one-on-one time? Is He upset with me?
It's not rude at all! God wants to talk with you. When we see Him as someone who'd get upset if we miss an appointment, we forget His character.
The Lord is gracious and compassionate, slow to anger and rich in love. Psalm 145:8 NIV
God's not looking to punish us when we mess up. He longs to draw us closer in relationship with Him. If we made plans to talk at a specific time, I apologize to Him for flaking out, the same as I would another friend. And He is quick to forgive.
Not only that, He doesn't want our relationship to start and stop only in the minutes we spend in "quiet time." He wants to talk with us about things, share His insight, His direction, His comfort, and His encouragement all throughout the day. Talk with Him at the grocery store and in the car pickup line. I try to make a habit of talking to God first when things go wrong too—praying over my son when He's sick, sharing troubling news with Jesus and asking for Him to help me have His perspective about it.
Some days, I approach prayer like I would any other item on my to-do list—just to get it done and check it off the list. How do I break away from the legality of it?
Great question and falling into the legality of prayer is so easy to do. One of the things that helps me is remembering that prayer is a two-way conversation. The purpose of my time in prayer is to connect with my Heavenly Father. That connection doesn't happen if I'm the only one talking, or if I'm going through the motions so I can move on to the next task. Instead, here are some quick tips I put into practice:
I ask God what He thinks, and then I wait and listen. My time in prayer can't just be me talking, so I practice listening to hear what He has to say. I also ask God what He wants to talk with me about in our time together.
I never check prayer off the list. Just like I wouldn't check conversations with my husband, my kids, or my best friend off the list. Sure, there may be specific priorities that I need to talk with them about, but when that's done, I'm not done talking with them until tomorrow.
Rejoice always, pray continually, give thanks in all circumstances; for this is God's will for you in Christ Jesus. 1 Thessalonians 5:16–18 NIV
I talk with God about random and not-super-spiritual things. I ask His opinion when I'm shopping for a gift for a friend. I share when something hurt my feelings and ask for His truth in areas when I'm struggling to get past hurt or lies. I ask Him for His highs and lows of the day with me, and thank Him for tiny signs of His love and consideration. I apologize for mistakes, right there in the moment, and ask for patience before I lose it at a toddler mess. These ongoing bits of conversation help keep our relationship from feeling stale or static.
I want to pray God's will, but how do I know what that is?
Ask Him for His will to be done, even if it's not what you think, or what you'd choose. You don't have to know what that is exactly, God knows. When I'm making requests of God, I'll share what I see as the best plan and ask Him to do what He knows is best. Not my will, but His will, because His plans are better than mine. That's not always easy (see When God Says No) but it's always worth it.
If you really want to pray God's will, a good place to start is praying Scripture back to Him.
God, you say that you didn't give us a spirit of timidity, but of power, love, and self-discipline. I'm struggling with self-discipline right now, please help me receive your Spirit instead.
There are even places in the Bible where it straight-up says "this is God's will for you." Pray those things into your life.
I sound like a little kid when I pray. How do I get better at it?
Don't worry about how you sound. God's not interested in eloquent words or beautiful sentiment. He wants to hear your heart and connect with you. The more you talk with Him, the easier it will be. The more you know Him, the more intimate your conversations will become.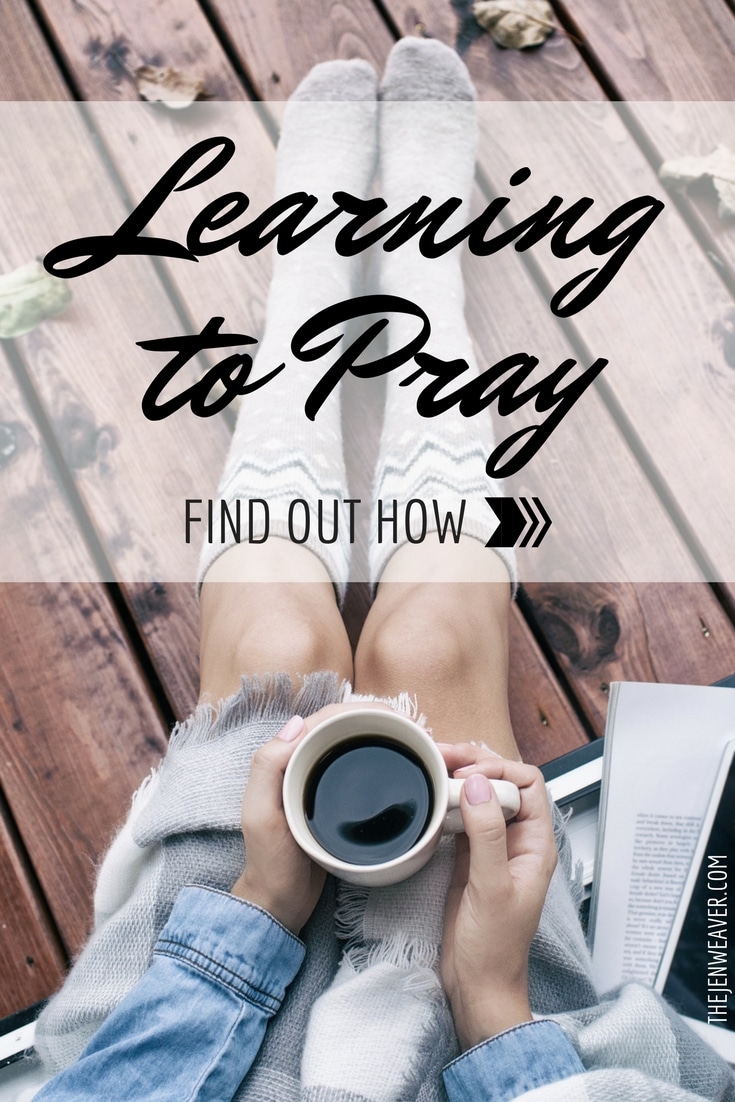 My prayers are almost the same every day. I feel like I sound like a broken record and even sometimes saying the words from habit without really thinking about what I'm saying. Can you offer some suggestions about this? Am I the only one that does this? Deep down I think I'm afraid if I don't express thanks for the things most important to me that they will be taken away from me.
You're not the only one!
Here's a suggestion: think about your times with God like a coffee date with a friend. If you sat down every morning with a fresh latte across the table from your best friend, you wouldn't just repeat the conversation from yesterday. The habit is in setting the time to connect, but the purpose is to connect, to build upon your relationship. Treat your time with God the same way.
Here are some tips to help keep the conversation fresh:
Think through the events of yesterday and thank God for the new things He is doing. Doesn't need to be a big thing either. For the favor you had at work. For not slipping on the icy sidewalk. For keeping your cool when your kid threw your cell phone in the toilet.
Ask God to bring to mind things for you to pray for, and deviate from your standard list. Maybe He'll prompt you to pray for a friend you haven't seen in years, or the stranger at the grocery store.
Read your Bible and pray through what you're reading. Give thanks for the miracles He did in the Bible. Ask Him to help you with the character development or spiritual development you're reading about.
Ask Him what He wants to talk about, and move on to that topic of conversation.
I want to speak to the deep down concern, too. God's not keeping a checklist of your prayers, and your time in prayer isn't a safety net to keep your blessings intact. This is a great topic to talk with God about. Ask Him to share His love for you and why He wants to connect with you in prayer. The enemy would like to keep our prayer focus fear-based, but that's not what God is about. He's a good Father and wants to give you an abundance of good things.
When you pray, do you need to speak out loud or can you be in your own head? Do you have to be on your knees or close your eyes?
Your prayers can be out loud or silently in your head and heart—God hears them all. Sit, stand, kneel, walk, eyes open, eyes closed, those are all options. I even pray a lot in the shower because it's quiet alone time.
I encourage you to use your physical posture and approach to prayer to aid your prayers. If I find my internal prayers are easily becoming distracted thoughts or just me thinking to myself, I'll start praying out loud to keep myself focused. If I'm moved with reverence for God I'll sometimes kneel or lay prostrate before Him. There's not a formula for "correct posture", just respond to how He moves or prompts you.
I feel like God only wants to talk with me when I'm doing well, not when I'm messing up. So I stay away until I feel like I'm doing better, but that usually just makes things worse. Help!
God doesn't want us to get our acts together before we approach Him. If that was a requirement, I'd never get to the point of spending time with Him because I mess up all the time. God always wants us to draw near to Him, even when we're struggling. He offers strength, forgiveness, comfort, compassion, and healing. Only the enemy would want you to stay away from receiving those things.
Sometimes I feel like I need to pay penance before I can come back, like if I do enough good things that will pave the way for me to come to God again. But God is not like that. Instead, He asks for repentance, which means to think again and choose a different course. This can be as simple as acknowledging your mistake, asking for Him to forgive you, and asking Him to help you make the different choice. He's not daunted by our messes, let Him help you through them.
I hope this Q&A post encouraged you to keep drawing near to Jesus as you're learning to pray. No matter what you've done, where you've been, or where you're coming from, know that God wants to connect with you. He's calling you into a closer relationship with Him, starting with salvation and building from there for the rest of our lives. It's a marvelous invitation!
Have a prayer related question I may be able to help with? Comment below or send me a message! I love helping others as we're all learning to pray and connect with God in meaningful ways.
Subscribe
Receive more awesomeness in your inbox.