I've heard it said that God treats us not according to where we are, but corresponding to where we are going and who we are becoming. That He sees the end, and treats us accordingly throughout the whole trip.
But what if that's not quite right? What if God treats us with the beginning in mind, not the end?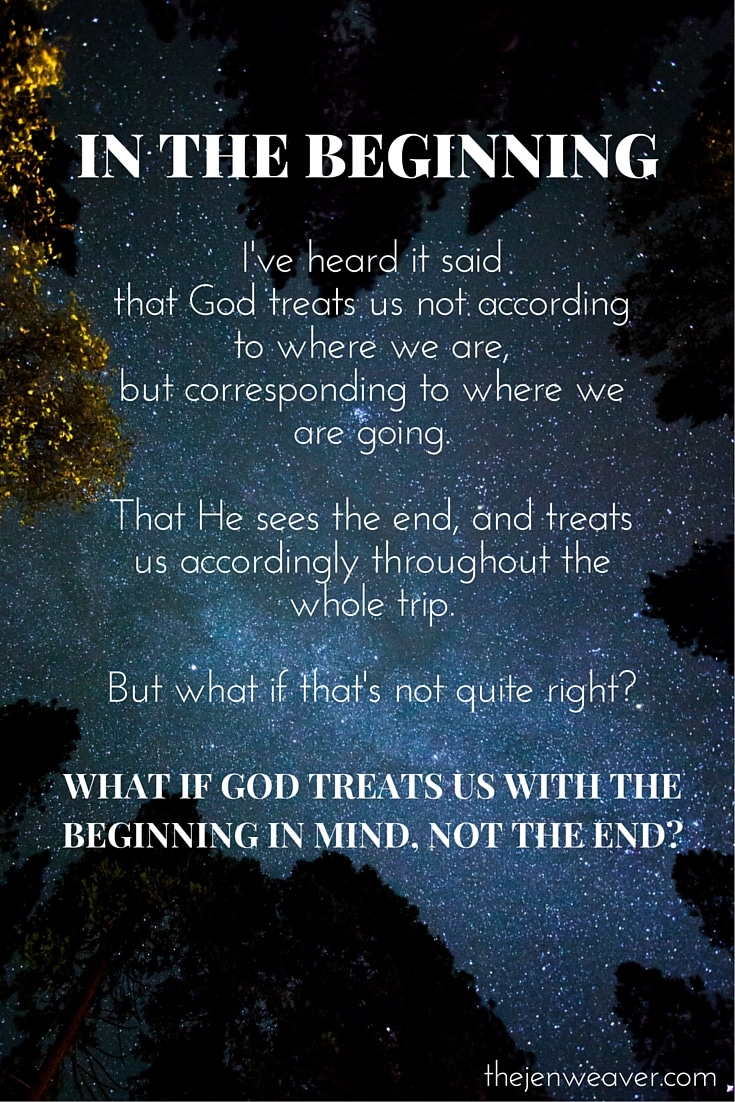 In The Beginning
Earth was a soup of nothingness, a bottomless emptiness, an inky blackness. (Genesis 1:2a The Message)
God spoke light, water, sky and seed into being. He spoke the creation of heavens and land, and earthly creatures. But not man. No, human He crafted.
The Lord God formed the man of dust from the ground and breathed into his nostrils the breath of life, and the man became a living creature … the Lord God caused a deep sleep to fall upon the man, and while he slept took one of his ribs and closed up its place with flesh. And the rib that the Lord God had taken from the man he made into a woman and brought her to the man. (Genesis 2:7, 21-22 ESV, emphasis added)
So God created man in his own image, in the image of God he created him; male and female he created them. (Genesis 1:27 ESV, emphasis added)
What if God doesn't treat us according to who we can someday become, but according to how He's always seen us? His beloved creation, made by hand in His own image because He wanted to get personally invested in our existence. For the animals, He gave a word. For the humans, He got His hands dirty.
We've always been the ones He wants to stroll with in the garden, in the cool of the day.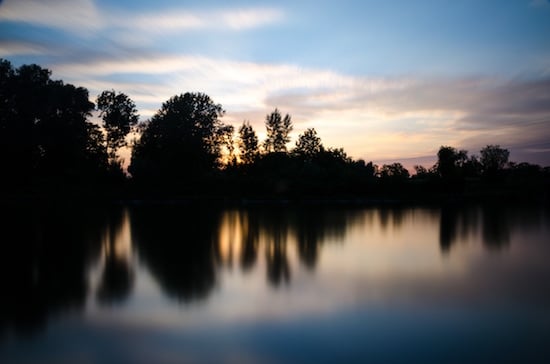 But we see our mistakes, recognize our sin, our nakedness, and we hide instead. Thinking we need to figure things out and make it better before we can connect with God.
And they heard the sound of the Lord God walking in the garden in the cool of the day, and the man and his wife hid themselves from the presence of the Lord God among the trees of the garden. But the Lord God called to the man and said to him, "Where are you?" And he said, "I heard the sound of you in the garden, and I was afraid, because I was naked, and I hid myself." (Genesis 3:8-10 ESV)
The Lord isn't sticking it out in the hard times hoping we'll get our act together. He's always loved us with a persevering love. Giving all when we had nothing to give in return … the perfect timing for His sacrifice.
You see, at just the right time, when we were still powerless, Christ died for the ungodly. Very rarely will anyone die for a righteous person, though for a good person someone might possibly dare to die. But God demonstrates his own love for us in this: While we were still sinners, Christ died for us. (Romans 5:6-8 NIV)
Read: How To Read The Bible And Actually Understand It
If I live with the end in mind then I'm always hoping and aiming for the day I'm good enough. Wishing for a day without mistakes, where I show myself worthy of God's affection.
If I want God to treat me according to who I will be someday, then I'm forever striving. Working to be better, do better, perform better. I've lived that way and those self-expectations are heavy burdens to carry.
But if I live today thinking about how things were in the beginning. How creator God crafted us for relationship with Him. To provide for our needs and bless us with intimacy in our connection. To walk and talk with us in the life of His provision.
If I think about how He sent His only Son to die as atonement for my sins, before I was even born. If I stop to think that God loves me today with a fierce love because that's how He's always loved me. That His love is unchanging. Unending. Well, then I'm drawn to Him, not just to do things for Him.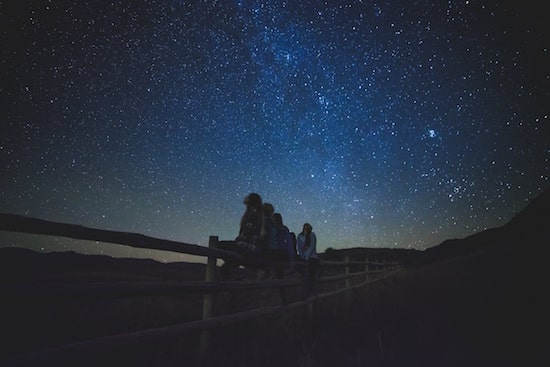 I can forget working and striving to be something more acceptable, and accept the love He's always offered me anyway. I'm freed up to come near to Him today, in all my mess, with every mistake, and know that He's not wishing I was future me. He's longing to connect with present me. And when I come, I'm crafted even further in His image.
Like how things were meant to be. In the beginning.