Friends! Sign-Ups are LIVE for the A Wife's Secret to Happiness launch team and I'd LOVE for you to join the fun!
If you love seeing God transform marriages, have a heart for sharing God's Word, find yourself encouraging other women to stop settling for "good enough," and love free books, this invitation is perfect for you!
A Wife's Secret to Happiness: Receiving, Honoring, and Celebrating God's Role for You in Your Marriage releases on March 14th.
Read more about the book here.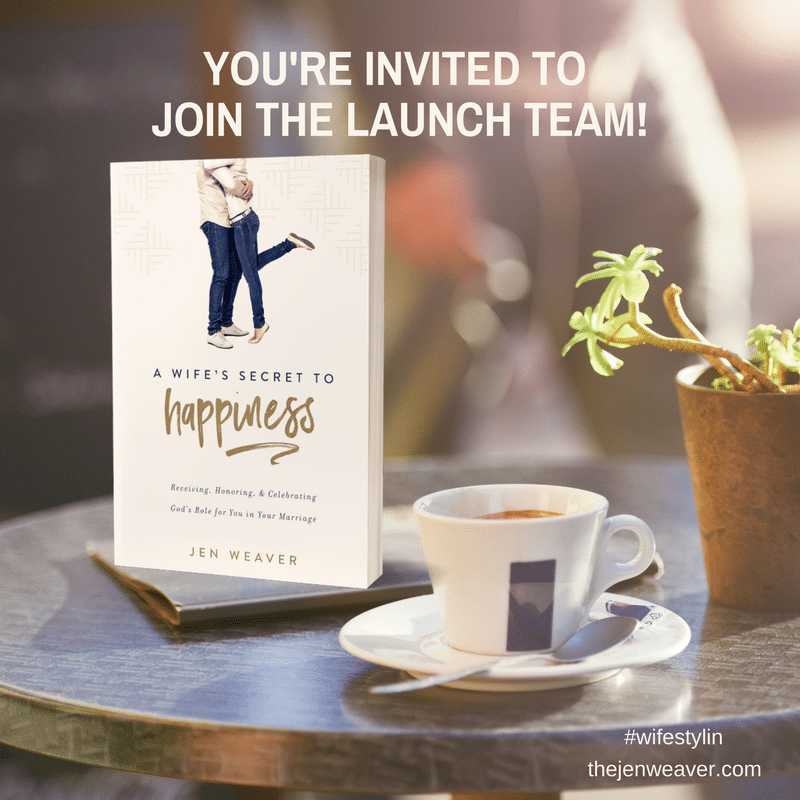 Why a launch team?
Very simply, with your help, we can reach more women and share the practical blessings God wants to shower on our marriages like spiritual confetti.
What does a launch team do?
I'll ask you to read the book before it is available to the public, share it in ways that make sense to you on social media and in your real life, and write an Amazon review on launch day.
How long will the launch team last?
Your role on the launch team will run from February 13th (to help promote the book and pre-order opportunities) until March 31st.
What does a launch team receive?
You will get a free copy of the book, access to a private Facebook group, a social media sharing calendar with pre-written copy and ready-to-share graphics (so easy!), and you'll be the first to know about giveaways, launch week activities, and more.
How many people can join?
We're limiting the team to 50-75 women who are passionate about embracing God's role for wives in marriage.  Please feel free to share this invitation with other friends you think might be interested in joining us!