Sometimes I don't feel strong. Other times it's even worse, and I feel weak … exhausted … lost.
We're taught that only the strong survive. To put on a brave face and soldier on. But what happens when I can't soldier anymore? When my arms aren't strong enough for the task, and my heart can barely hold on to the last strands of hope?
My Jesus reminds me that He didn't choose me for my strength.
It's not because of what I can do on my own that He called me. Rescued me. It's because in my weakness His strength shines.
On day's when my stamina waivers and I'm more stumbly than sturdy, I rejoice in Psalm 118.
(verse 1) Give thanks to the Lord, for He is good; His love endures forever.

(verse 8) It is better to take refuge in the Lord than to trust in humans. (and that includes trust in myself!)

(verses 13–17) I was pushed back and about to fall, but the Lord helped me. The Lord is my strength and my defense; He has become my salvation. Shouts of joy and victory resound in the tents of the righteous:

"The Lord's right hand has done mighty things! The Lord's right hand is lifted high; the Lord's right hand has done mighty things!"

I will not die but live, and will proclaim what the Lord has done.
If today is one of your rocky days, prepare to be amazed. God is your strength and your defense. He longs to do mighty things on your behalf. His hand is at the ready, and He will make His light shine upon you.
(verse 27) The Lord is God, and He has made His light shine on us.
Renew yourself in His strength.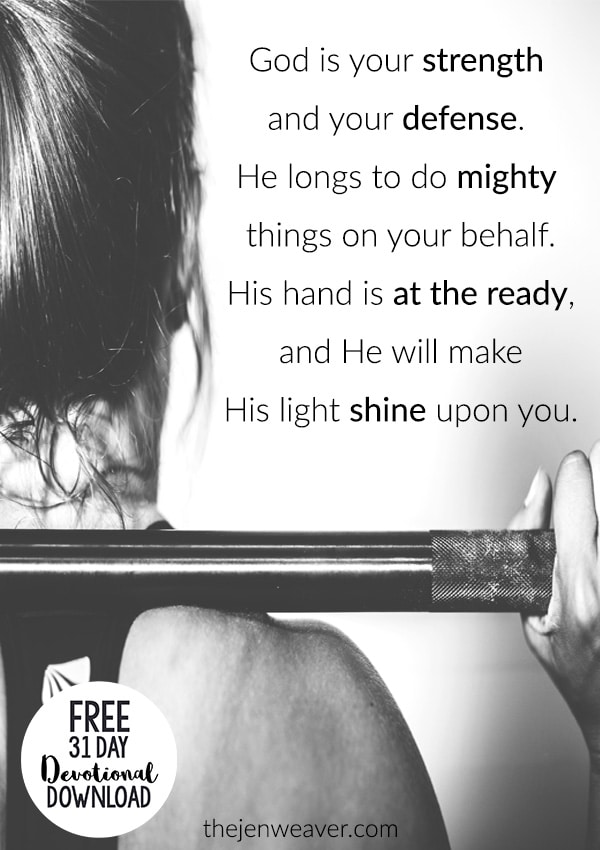 If this post encouraged you, don't forget to download the 47 page devotional for FREE!
Subscribe
Receive more awesomeness in your inbox.