A church I attended several years ago had a ministry called "Thanksgiving." They set aside specific time blocks three times a day, seven days a week, for corporate times of thanksgiving in the church building. Anyone could come and go as they pleased and I loved how these times helped me build a habit of giving thanks.
In one of these gatherings we spent time looking through the Bible and thanking God for what He did on behalf of the people written about in those pages. This activity made Scripture come alive to me in a new way. I'd read the story in Luke 7 and suddenly it wasn't just a story about something miraculous Jesus did. It was a testimony of how he saw a real living, breathing, and grieving woman in her pain. How He had compassion on her and answered a prayer she probably didn't even know she could pray. And how that day she went from being a widow who'd lost her only son, to a mother celebrating at the gift of her son given back to her.
Soon afterward, Jesus went to a town called Nain, and his disciples and a large crowd went along with him. As he approached the town gate, a dead person was being carried out—the only son of his mother, and she was a widow. And a large crowd from the town was with her. When the Lord saw her, his heart went out to her and he said, "Don't cry." Then he went up and touched the bier they were carrying him on, and the bearers stood still. He said, "Young man, I say to you, get up!" The dead man sat up and began to talk, and Jesus gave him back to his mother. (Luke 7:11–15 NIV)
Giving thanks to God for His acts of love in this woman's life made Luke 7 into a testimony, not just a story. Even thinking about it now, I'm brought to tears and I want to dance at the same time. Her son was dead and Jesus brought him back to life!
I recently read a book that sparked this same sense of biblical reality. In Talking To Jesus, Jeannie Blackmer flips the script on Bible stories.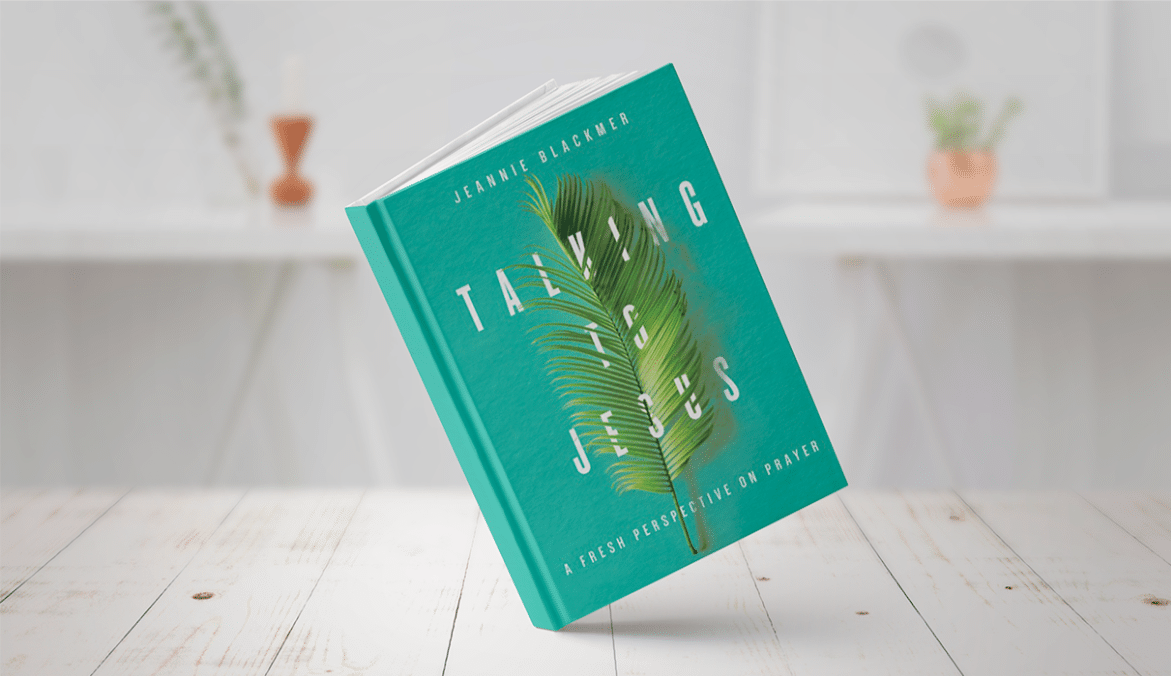 If prayer in its simplest form is us talking with God, then what we read as earnest dialogue between Jesus and people needing His help in the New Testament, could be seen as prayer. We get a front-row seat to eavesdrop on their prayer lives as they made their requests known to God, and we learn more about Christ's character by seeing how He responded to them.
Jeannie uses fictional storytelling to bring us into the environment of these conversations and then makes the prayers practical by helping us put our own names in the stories.
The distant story of a leaper changes into me asking Jesus to heal an area of my own life:
"Lord, if you're willing you can make me clean. Cleanse/Heal me from _________"
The testimony of two healed blind men encourages me to seek mercy:
"Jesus, please have mercy on me. I am struggling with _______ and I believe you can help me …"
What a simple yet beautiful perspective on prayer. I love how these pages encourage us to connect with God wherever we are and to talk with Him candidly about anything and everything we're going through. He doesn't need fancy words, just plain conversation.
If you've been around the blog a bit, you know I'm big on helping others learn how to understand the Bible and how to pray. Talking To Jesus fits in great with that vein, especially if praying is something new for you, because it really simplifies the process and takes the scary out of it. You're talking with Jesus. Plain and simple. In fact, a good tip for building your prayer life is to pray scripture back to God.
"Lord, in Romans 15:13 it says that by the power of the Holy Spirit we can abound in hope. I don't feel very hopeful right now. In fact, I feel discouraged and stressed out. Will you please send your Holy Spirit that by His power I can abound in hope?"
Whether you get the book or not, I hope the examples I've shared from Talking To Jesus encourage you to take a fresh approach in talking with Jesus in a more personal way. And as a bonus, I'm giving away a copy! Head on over to my Instagram to enter!
You can also connect with Jeannie on her website and here's a quick link to purchase Talking To Jesus on Amazon.