No one looks forward to a dark season. Yet they come anyway, as we face hardship, loss, illness, relational wounds, and trials requiring perseverance.
Even with its bright lights and cheerful songs, the holiday season isn't immune to such difficulties. Sometimes weeks of good tidings serve as painful reminders of happy holidays gone by, or simply spotlight the difference between this year's difficulties and our hope-filled expectations for what might have been.
If you're journeying through a valley of shadows, I come with encouragement in the form of a new book, Anchored In: Experience a Power-Full Life in a Problem-Filled World by Micah Maddox.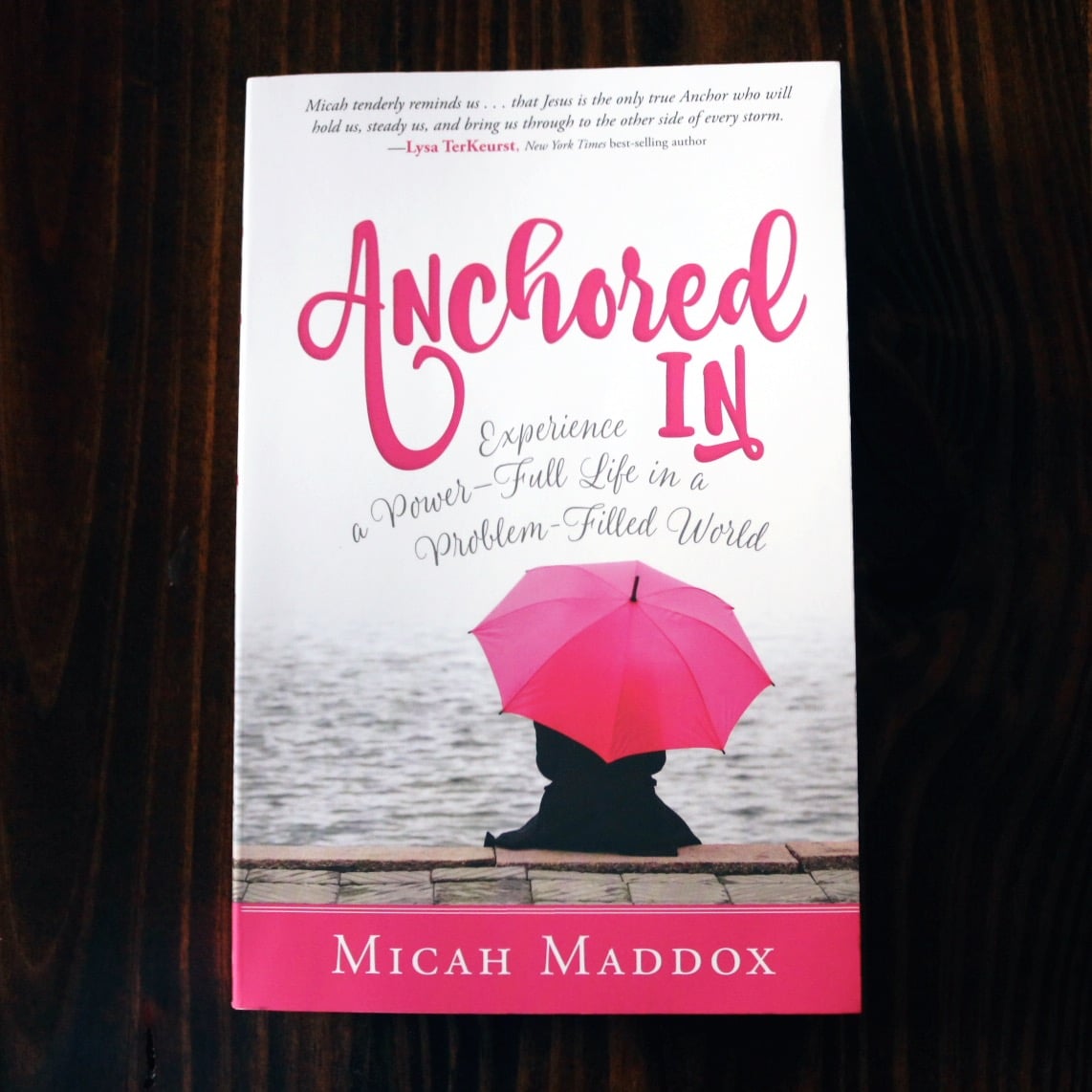 Micah tenderly reminds us to anchor ourselves in Christ, no matter what life circumstances we come up against. And she's faced some doozies herself, sharing vulnerably about overcoming abandonment issues from her earthly father, and then later in life, her husband's life-threatening health issues.
Darkness isn't cause for distress. It's a call to surrender to the Savior. If you are still in the middle of the problems, still facing the dark, still waiting to see what God is doing, use this time to get to know the God of the darkness. He is a powerful anchor that will not budge even when it feels like you are drowning. – Anchored In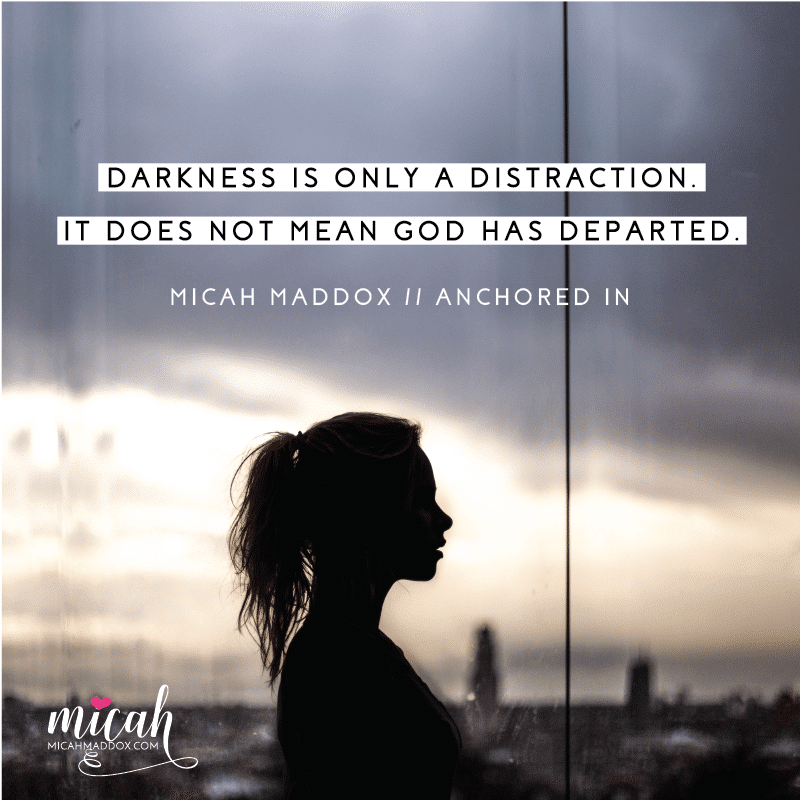 Micah is an online friend so I jumped at the chance to read her book, even though I'm not going through a particularly difficult season. Sure, there are minor pregnancy annoyances and some mom-life days are more trying than others, but overall, I'm grateful for a peace and lots of rest right now.
Reading Anchored In during this calm time of life reminded me of a few powerful truths:
#1 God uses what we've gone through to help others.
The title of this post is a direct quote from the book. "Don't waste your darkness." I love this visual because even the difficult, dry, or barren seasons can bear good fruit. I love sharing about past struggles with infertility and pregnancy loss, even our own marriage blunders for this reason. (Including a whole book filled with lessons I learned the hard way!)
… Whatever you go through or have been through, God has a way of using it to help others … Let God use you to inspire, encourage, and lift up others who face the same circumstances. – Anchored In
I may never know why God let us get pregnant only to lose our sweet baby girl before she was born. But this I do know, I refuse to waste the darkness He's brought me through by not talking about it. I get the opportunity to encourage others facing similar circumstances with the hope and comfort I received.
Blessed be the God and Father of our Lord Jesus Christ, the Father of mercies and God of all comfort, who comforts us in all our affliction, so that we may be able to comfort those who are in any affliction, with the comfort with which we ourselves are comforted by God. (2 Corinthians 1:3–4 ESV)
#2 The enemy tries to entice us to dwell in past or current pains instead of in God's presence.
Just because God brought me through something, it doesn't mean the pain disappears. Wounds can heal but still leave scars.
Whatever it is in your life that didn't go the way you thought it should, the enemy desires to make you dwell there. He wants to drag you to the depths of despair and make you take up permanent residence. … If we live anchored and tied to what we think should have been, or should be, we will live defeated beneath unmet expectations and imperfection. – Anchored In
Sometimes I get stuck in what could have been. But every time that happens, it's because I've misplaced my anchor—tying myself to dreams and circumstances instead of to my Savior, who is good and God no matter what.
#3 Tiny moments hold miracles.
The miracle isn't just in the big ground-breaking move of God to alter circumstances. It's also in the simple moments of experiencing His presence. Him. Mighty God. Heavenly Father. Savior of the World interacting with me in the quietness of morning or calming my heart in the afternoon chaos—that is a miracle I don't want to take for granted.
Power in our lives is not so much something that is produced as something that is practiced. It's a discipline of fewer distractions and more devotion … Once we change the way we look at the power in our lives, we will change the way we look at everything. We will begin to see God's power in everything we encounter, and it is a beautiful display of His presence. – Anchored In
I want to live in constant awareness of God's miracles in the tiny moments.
I found this book so encouraging that I wanted to share it with all of you. If you're interested in getting a copy it's available wherever books are sold (including Amazon) and you can connect with Micah on her site.
Subscribe
Receive more awesomeness in your inbox.